Idera well-funded, growing pipeline of potential blockbuster drugs
Idera starts 2017 with a clear strategy; it is well-funded, has a robust and growing pipeline, and expects to deliver powerful near-term catalysts.
The company begins the year with over $100M in cash, which is enough to advance its diverse pipeline well into the second half of 2018.
The company's lead drug candidate IMO-2125 for refractory melanoma continues delivering blockbuster-like results starting from the pre-clinical stage to the current Phase 1/2 clinical trials.
Idera is working aggressively to expand the indications for IMO-2125 to address a variety of cancer and solid tumors in conjunction with well-known checkpoint inhibitors suck as Merck's KEYTRUDA.
The company, a pioneer in antisense technology, has developed a 3rd Generation Antisense technology platform, which is expected to be unleashed in 2H 2017.
Idera Pharmaceuticals (NASDAQ:IDRA) is a clinical-stage biopharmaceutical company developing novel nucleic acid based therapies for the treatment of certain cancers and rare diseases. Idera's proprietary technology involves using a TLR-targeting technology to design synthetic oligonucleotide-based drug candidates to act by modulating the activity of specific TLRs. In addition to its TLR programs, Idera has created a 3rd Generation Antisense technology platform using its proprietary technology to inhibit the production of disease-associated proteins by targeting RNA.
2016 – A Transformational Year
Idera entered 2016 after having presented positive clinical data from the ongoing Phase 1/2 trial of its then lead drug candidate IMO-8400 in patients with Waldenstrom's macroglobulinemia at the 57th Annual Meeting of the American Society of Hematology (ASH) (December 5, 2015, in Orlando, Florida). The report initially lifted the stock price to $4.4/share following the presentation. But after the initial excitement, the stock deflated gradually until September 26, 2016, when it quickly jumped to over $3 again as seen in the chart below: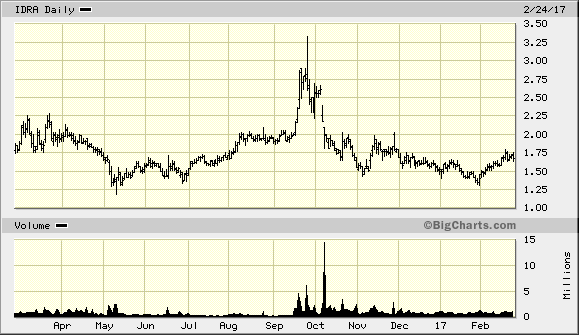 The report that the company's Toll-like receptor (TLR) 9 agonist drug candidate IMO-2125 demonstrated promising clinical activity in patients with metastatic melanoma and was well tolerated was the reason for the September 26, 2016, spike. IMO-2125 was evaluated in combination with ipilimumab on patients who have failed prior PD-1 therapy,
Per the company, the patient population in those studies had minimal options and low expectation of clinical response with ipilimumab treatment alone. The most striking result was that three of the four patients with cutaneous melanoma were responders with one Complete Response (CR) and 2 Partial Responses (PR).
Idera CEO Vincent Milano commented:
"We have completed extensive pre-clinical work in a broad scope of tumor types to test the hypothesis of intra-tumoral administration of IMO-2125 inducing a meaningful effect on the tumor microenvironment and potentiating local and systemic tumor regression in patients. This work gave us confidence to test the ability of IMO-2125, beginning with this current study in PD-1 refractory metastatic melanoma patients."
CEO Milano continued:
"We are energized by the early results from this ongoing trial and have been solidifying our plans to accelerate the program as we believe there is a clear path to bring IMO-2125 to melanoma patients who have not benefited from checkpoint inhibition alone and open an opportunity to establish IMO-2125 as the agent of choice to activate the tumor microenvironment and potentially improve outcomes for patients."

"Following a full strategic review, we have decided to prioritize the IMO-2125 program and explore strategic options for IMO-8400 in B-cell lymphoma."

I believe it was the last sentence that confused and turned investors off. Some investors expressed their dismay on message boards for dropping the more clinically-advanced IMO-8400 for up-and-coming IMO-2125, often referring the company's management as "wishy-washy."
The press release stated that the company was suspending the clinical development of IMO-8400 for B-cell lymphomas, including studies in Waldenstrom's macroglobulinemia (WM) and Diffuse Large B-Cell Lymphoma (DLBCL), and that it will explore strategic options in these indications. However, the company confirmed that development of IMO-8400 in dermatomyositis will continue going forward.
In short, as part of its TLR (Toll-like receptor) drug-development platform, Idera develops TLR antagonists and agonists that regulate the activity of targeted TLRs. A TLR antagonist, such as IMO-8400, inhibits the immune response, while the TLR agonists, such as IMO-2125, stimulate the immune response.
In retrospect, this was the right decision at the right time. Clearly, management decided to focus its cash and resources on its potential blockbuster IMO-2125 drug candidate, based on the preclinical and clinical successes to date.
On November 11, 2016, Idera reported translational data supporting the mechanism of action of IMO-2125. No dose limiting toxicity has been observed and activity in patients with metastatic melanoma unresponsive to PD-1 therapy has been promising. Joanna Horobin, Idera's chief medical officer, commented:
"We hypothesized that the intratumoral injection of IMO-2125 into a single tumor lesion would stimulate dendritic cells to produce interferon and the downstream immune cascade in the tumor microenvironment, resulting in the recruitment and activation of tumor-killing T-cells in both the injected and non-injected tumors."

"When combined with a systemic checkpoint inhibitor, this change in the tumor microenvironment was expected to affect tumor responses in both injected and distant tumors."
Idera is clearly not a "one-trick pony." In late 2015, the company announced a collaboration agreement with GlaxoSmithKline (NYSE:GSK) whereby GSK agreed to pay Idera $2.5M up front and promising as much as $100 million more in development milestones in exchange for the rights to an undisclosed number of early-stage treatments targeting kidney disorders. Additionally, Idera could receive as much as 5% if any resulting products generate over $500M annual sales. Key to this collaboration is Idera's 3rd Generation Antisense (3GA) technology. By using this technology, Idera will be able to design drug candidates that will interfere with RNA communication and thus alter genetic expression. This way, therapies will be tailored to treat diseases resulting from gene defects.
Regarding this technology platform, Sudhir Agrawal, founder, and president of research at Idera, commented:
"Our in-depth understanding from our pioneering work in antisense technology along with our insights into the interaction of nucleic acids with Toll-like receptors has allowed us to design this unique technology platform to fully realize the potential of antisense technology. We are continuing to conduct preclinical studies with multiple 3GA candidates in house and with our collaborators (GSK, etc.), with a goal of advancing this technology to clinical development."
Idera is recognized as a pioneer of the antisense technology. Dr. Agrawal, (and a co-author) published the first-ever paper describing the antisense approach in the New England Journal of Medicine in 1987. The research described a way to "silence" disease-causing genes using synthetic DNA. Several biotech companies were born because of this discovery.
Another significant and transformational 2016 event was the November 28, 2016, announcement that Idera had granted privately-owned Vivelix Pharmaceuticals exclusive worldwide rights to the non-malignant gastrointestinal disorder candidate IMO-9200. Per the agreement, Vivelix paid Idera $15M upfront. Additionally, Idera could receive up to $140M in payments tied to achieving development, regulatory, and sales milestones for IMO-9200. Vivelix also agreed to pay escalating royalties on global net sales of the compound up to low double digits. Furthermore, Vivelix agreed to pay development, regulatory sales, and milestone payments totaling up to $52.5M toward potential backup compounds to IMO-9200. Idera may also receive up to low double digits of net global revenues. Including back-up compounds, this licensing agreement could generate over $200M for Idera long term.
2017 – An Inflection Year
Idera starts 2017 with a clear strategy; it is well-funded, has a robust and growing pipeline, and plans to deliver powerful near-term catalysts as will be seen later in this article.
In the company's 3Q 2016 financial results, Idera reported that it had cash, cash equivalents, and investments totaling $53.4M. With the October 2016 public offering that resulted in net proceeds of $48.9M and the $15M November upfront payment received from Vivelix, Idera is starting 2017 with over $100M in cash. This amount of cash will provide a runway well into mid-to-late 2018 to advance the company's exciting pipeline (see slide below). Much of the discussion in this article will be focused on the blockbuster potential of Idera's IMO-2125 drug candidate.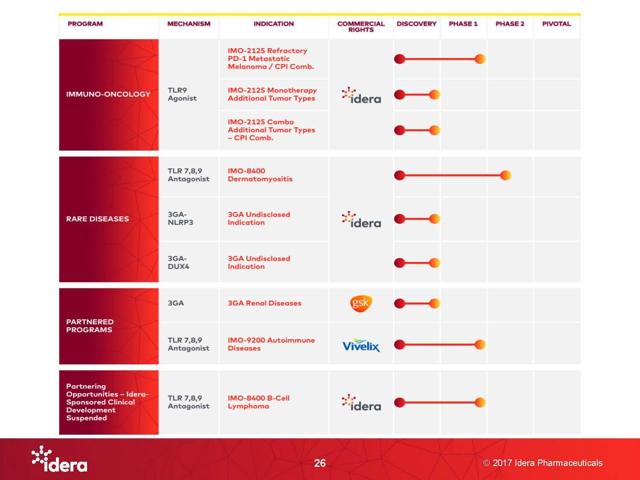 During the January 11, 2017, presentation, at the 35th Annual J.P. Morgan Healthcare Conference, CEO Milano was extremely bullish about 2017 and IMO-2125 in particular. He started by saying that 2017 will be an "incredibly pivotal year for Idera." The CEO then went into describing the primary mechanism of action of IMO-2125, which is to improve the tumor micro-environment so that a check-point inhibitor could more effectively attack tumors. As seen in the following slide, intratumoral injection of IMO-2125 is able to change the environment in local tumors, and can also free-up and help proliferate cancer fighting T-cells. This in turn can cause systemic tumor regression by enabling the check-point inhibitor to maximize its tumor-destruction work.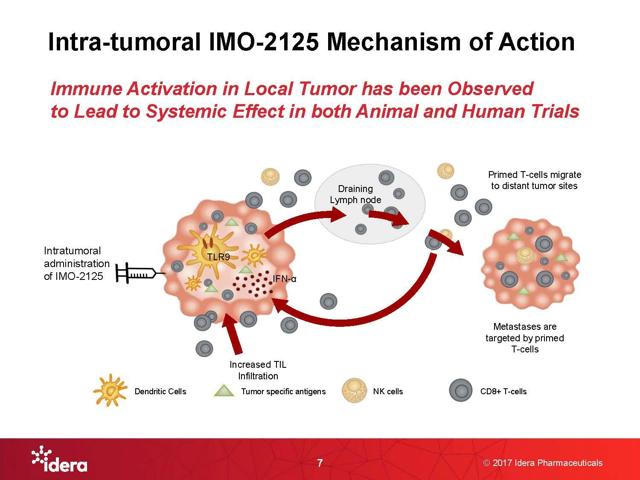 CEO Milano became clearly emotional when he talked about the complete response of a 68-year old refractory-melanoma patient. This patient had run out of options, and was even referred to a hospice. As we all know, the purpose of hospice care is to take care of people in the last phases of a disease that cannot be cured. CEO Milano explained that upon the patient's wife desperate request for one more try, he was enrolled in the program. This patient received six 8-mg IMO-2125 doses and four doses of check-point inhibitor ipilimummab (IPI). The patient showed a dramatic positive response, and a few months later he was declared CR.
The well-known English idiom "a picture is worth 1,000 words" is very appropriate at this point. The following slide shows the patient's pre-therapy status on the left, and where the treatment was applied with a yellow arrow, along with several tumors (red arrows). It can be seen clearly on the right images that the local, as well as the distant tumors, completely disappeared during the six-month check-up: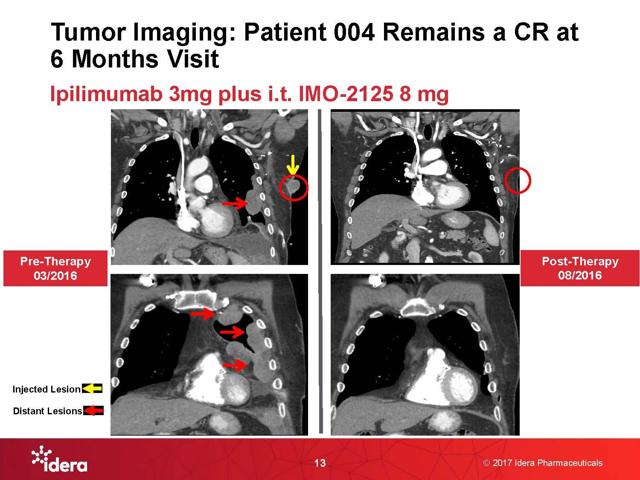 Many of us have lost a beloved family member to cancer, and have seen similar pictures. It is wonderful to know that treatments like this will be making a significant difference in people's lives, and their families, in a not-too-distant future.
On February 24, 2017, Idera presented an update on the dose-escalation phase of the ongoing IMO-2125 Phase 1/2 clinical trials. Marc Uemura, M.D. from the University of Texas, MD Anderson Cancer Center, presented an update on the clinical and translational findings from the ongoing trial in a poster entitled: "Intratumoral (i.t.) IMO-2125, a TLR9 agonist is active in combination with ipilimumab in PD-(L)1 refractory melanoma (RM)."
Mark Cornfeld, M.D., Idera's medical lead, oncology, commented on the study:
"We are very pleased to have achieved successful completion of all our objectives in the Phase 1 portion of this trial which established safety across all doses tested, and demonstrated preliminary evidence of clinical activity, including durable responses of over one year in two of the evaluable patients so far."

"At this point we have very clear justification to further the development of IMO-2125 and we'll soon be moving to the phase 2 portion of the trial, which will expand to multiple centers. Additionally, we are undertaking a parallel development pathway for IMO-2125 in combination with pembrolizumab and while that is not the focus of this presentation today, we are making good progress with safety and dose evaluation in that arm."
The poster presentation concluded:
The combination of IMO-2125 and ipilimumab is tolerable at all dose combinations studied and has clinical activity in PD-1 refractory melanoma.
There is evidence for immune activation in both the injected and distant tumor biopsies that correlates with clinical outcome.
Further investigation of the IMO-2125 + ipilimumab combination in PD-(L)1 refractory melanoma is warranted; the planned Phase 2 expansion will begin soon.
Dose escalation of IMO-2125 + pembrolizumab (Merck's (NYSE:MRK) KEYTRUDA) is also ongoing
Idera also announced the acceptance of two abstracts at the upcoming American Association for Cancer Research (AACR) 2017 Annual Meeting being held April 1-5 in Washington DC.
On Wednesday, April 5, 2017, Dr. Cara Haymaker of MD Anderson Cancer Center will present an update on the translational data outcomes in a poster presentation entitled, "Translational evidence of reactivated innate and adaptive immunity with intratumoral IMO-2125 in combination with systemic checkpoint inhibitors from a Phase 1/2 study in patients with anti-PD-1 refractory metastatic melanoma."
Also on April 5, Daqing Wang, Ph.D., principal scientist, Idera Pharmaceuticals, will present new IMO-2125 pre-clinical data in a poster entitled, "Local treatment with novel TLR9 agonist IMO-2125 demonstrates anti-tumor activity in preclinical models of pancreatic cancer."
Notice that the second presentation reflects the aggressive push by Idera to expand the indications for IMO-2125, presumably this time with Merck's KEYTRUDA (pembrolizumab) working together on pancreatic cancer.
The company has established an aggressive path forward to accelerate and maximize the benefits of the IMO-2125 program in the refractory melanoma indication. As soon as practical during 1H 2017, Idera plans: 1) To begin meetings with the FDA regarding end of Phase 1; 2) perform dose-selection and initiation of Phase 2 in 2Q2017; and 3) discuss with the FDA plans to finalize Phase 3 design.
The following slide shows the path forward to expand IMO-2125 indications beyond melanoma. The slide that follows shows the long-term expansion opportunities that would increase the addressable market from 20K to 160K patients and beyond: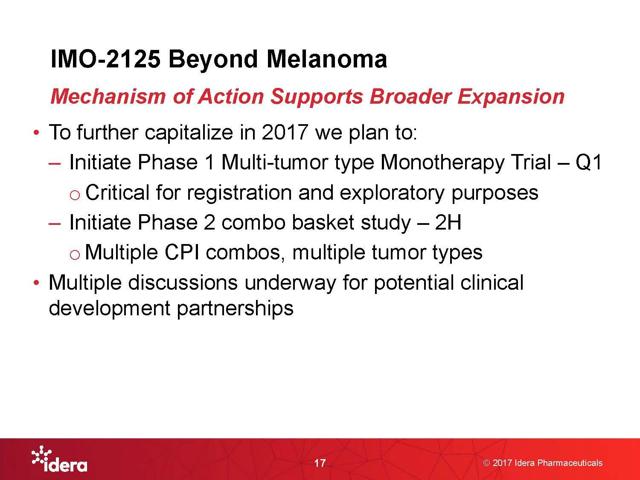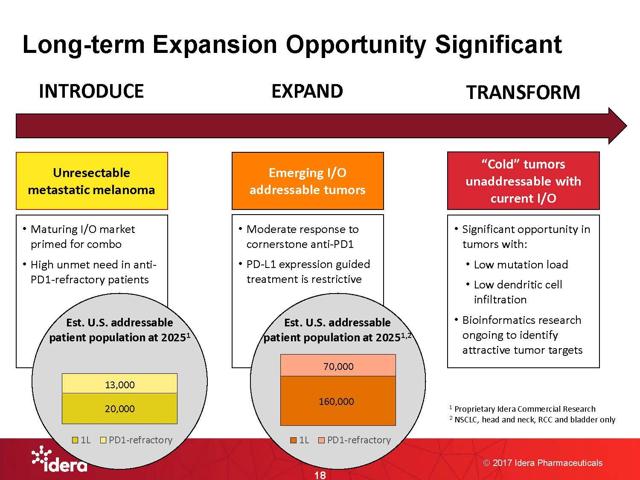 2017 Catalysts And Milestones
I put together the following slide to highlight the major catalysts and milestones envisioned by the company for the remainder of 2017 and the beginning of 2018: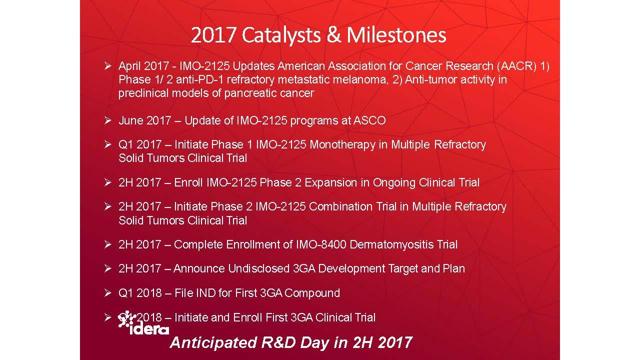 As seen at the bottom of the slide, the company plans to hold an R&D day during the second half of 2017 (TBA).
As can be seen from the above discussion that there are many reasons for Idera's investors to share CEO Milano's enthusiasm calling 2017, "an incredibly pivotal year for Idera."
Institutional and Insider Ownership
Institutional ownership is growing strongly with the largest institutions having increased their holdings substantially, led by Baker Brothers. Vanguard Group, Broadfin Capital, and Blackrock Fund Advisors. There are also several new institutions, and increasing positions are outnumbering decreasing positions by a 12 to 1 margin.
Insider buying has been persistent with no insider sales in the last 12 months.
Management Team and BOD
A company success relies heavily in the quality of the management team. Idera's management has been fortified significantly in the last three years.
On December 1, 2014, the company announced the hiring of Vincent Milano as CEO. Mr. Milano was a former CEO of ViroPharma, which was acquired by Shire Pharmaceuticals (NASDAQ:SHPG) for $4.2 billion. He is an industry veteran with an excellent record of accomplishments in the areas of commercializing and approval of several successful products. CEO Milano brought with him several close associates from ViroPharma including Elizabeth Eberhardt as VP of oncology team, Clayton Fletcher as Sr. VP business development & project management, and Robert Doody Jr., as VP investor relations and corporate communication.
Mr. Milano replaced company founder Dr. Sudhir Agrawal as CEO. Mr. Agrawal in turn was named president of research. Dr. Agrawal is a serial inventor and his name appears as author or contributor in over 300 patents in several areas of drug development.
Idera's Board of Directors is admirable for a company with a market cap of less than $300M. It brings decades of experience with members representing Baker Brothers, Sanofi (NYSE:SNY), GlaxoSmithKline, Genzyme, Pfizer (NYSE:PFE), Schering-Plough, and ViroPharma.
Analyst Opinions and Coverage
Three analysts covering IDRA have an average "Buy" rating on the stock with an average price target of $5/share. Price targets range from $4 to $6/share. On Friday, February 24, 2017 Wedbush reaffirmed its "Outperform" rating on IDRA stock and maintained its $6/share price target.
Risks and Uncertainties
1) Like most clinical-stage biotechs failure to meet top line results in any of the clinical programs underway would be a major setback.
2) Significantly higher than forecasted cash burn that would require equity raises before mid-2018, as expected.
3) Loss of key talent to the competition.
4) Decisions to out-license drug candidates can come back to haunt you. Longer Idera investors still remember with disgust when the company licensed its earlier generation antisense technology to the then Isis Pharma (NASDAQ:IONS). Isis eventually became a $5B plus thanks in part to Idera's technology.
5) Lack of focus on drug development strategies that could end up being costly and would turn away investors. The last two items are less of a concern now that the company has assembled a top-notch management team and BOD.
Conclusions
If we assume that Idera currently has more than $100M in cash, the market is valuing the company at only about $140M. This to me is extremely undervalued when considering:
Idera's extensive and potentially powerful pipeline, featuring IMO-2115 not only in refractory melanoma, but also in several other indications per the company's expansion plans.
Drug candidate IMO-8400 for dermatomyositis will complete Phase 2 enrollment in 2H 2017.
The 3rd Generation Antisense (3GA) technology platform will begin generating several drug candidates starting this later year. The catalyst table lists several key milestones around 3GA scheduled for 2H 2017.
The low valuation completely ignores the rich collaboration agreements with GSK and Vivelix, both in the 3GA area.
Finally, there could be an announcement of a collaboration to out-license IMO-8400 for B-cell Lymphoma indications which is Phase 2-ready.
The cash on hand provides a comfortable runway well into the second half of 2018 assuming cash burn stays in the $10-15M quarterly range.
In terms of a fair valuation, I don't feel comfortable coming up with one at this point since there are so many moving parts. But I will agree with the average of the three analysts covering IDRA, or a $5/share price target.
As a shareholder I am very enthusiastic about the make-up of the management team and the BOD. Its vision and decisiveness is reflected in the September 26, 2017, decision to focus on the development of IMO-2125 instead of the more advanced IMO-8400 program because of its blockbuster potential.
It is also encouraging to see that the institutional interest in the stock is on the upswing with some big names increasing their stake substantially like Baker Brothers, The Vanguard Group, and Blackrock Fund Advisors. Another positive is the persistent insider buying and lack of insider selling in the last 12 months.