Aurinia fully funded for upcoming catalysts
After recently raising an additional $173 million in equity financing, Aurinia is fully funded to complete its Phase 3 AURORA trial for voclosporin in the treatment of lupus nephritis.
Upcoming catalysts include: March 27th presentation of 48-week AURION trial data; and April 20th, 2017, presentation of full 48-week data from its successful Phase 2B AURA trial.
Peak annual sales for voclosporin could materially exceed $1.38 billion per annum.
Aurinia likely to enter into either a lucrative partnership arrangement to commercialize voclosporin or be bought out. Aurinia now in a stronger bargaining position as a result of being fully funded.
Aurinia Pharmaceuticals Inc. (NASDAQ:AUPH) is a Canadian, clinical-stage, biotechnology company based in Victoria, British Columbia, focused on the development of its lead drug voclosporin for the treatment of Lupus Nephritis or LN. The company quotes the Lupus Foundation of America's estimate that approximately 500,000 to 1,500,000 people in the United States and up to 5 million people worldwide suffer from System Lupus Erythematosus ("Lupus" or "SLE"). 40% to 60% of patients with SLE develop LN.
LN is an inflammation of the kidney caused by SLE which, if left untreated or inadequately treated, can lead to end-stage renal disease, dialysis, renal transplant, and death, making LN a serious and potentially life-threatening condition. There are no FDA or EMA approved LN therapies.
I've written a series of article about Aurinia since May of last year. On January 23, 2017, I published an article about Aurinia Pharmaceuticals explaining why I believed Aurinia was an attractive buyout candidate. A copy of my January 23, 2017, article can be found here. At that time, AUPH shares were trading in the $2.50 range and I maintained a $12.00 to $16.00 share price target.
All currency references in this article are in U.S. dollars and all trading references are in relation to AUPH trading on NASDAQ.
In early February of this year, Aurinia announced the appointment of Dr. Richard Glickman as the new CEO (which I thought was a very positive development). I interviewed Dr. Glickman the very evening his appointment was announced and discussed my favorable views on his appointment in my article found here.
On March 1, 2017, Aurinia announced its top-line 48-week Phase 2B trial results, which exceeded my expectations. These positive top-line 48-week results bode very well for the upcoming 320 patient Phase 3 AURION study, likely to begin next month (or shortly thereafter.) On March 2, 2017, I published an article titled "Aurinia Successful 48-Week Phase 2B Trial Results Even Better Than I Expected."
Since releasing its top-line 48-week Phase 2B trial results on March 1, Aurinia's share price has increased dramatically. In fact, on Friday, March 10, 2017, shares of Aurinia hit a 52-week high in excess of $10.50.
The chart below is taken at the close of business on Thursday, March 23, 2017.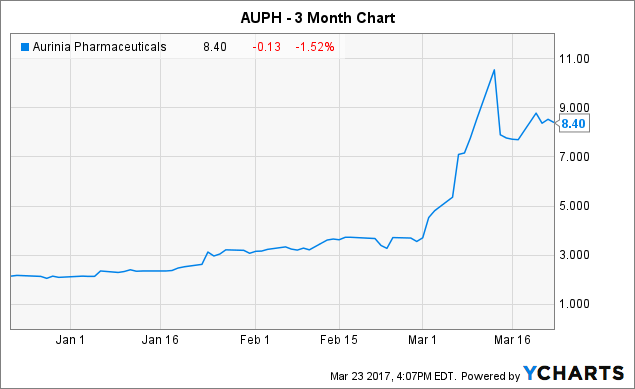 Until recently, one of the outstanding issues faced by Aurinia was the lack of capital necessary to complete its Phase 3 AURORA clinical trial and take the necessary steps to commercialize voclosporin in the U.S. as well as in Japan and Europe.
The funding issue was solved recently. On March 14, 2017, Aurinia announced the pricing of its secondary equity financing priced at $6.75 per share. On March 20th, a press release was issued confirming that $173,100,000 pursuant to the public offering had closed (less approximately $9 million in fees as well as legal and other expenses), which included the full exercise of the underwriter's options to purchase additional shares. In total, an additional 25,645,000 common shares were issued (with no warrants). I estimate that the company currently has just between $200 million and $209 million in cash or near equivalents. As well, its substantial number of options and warrants issued are in the money, and I expect some or all will be exercised within the next few years.
Summary
Common Shares Outstanding: 80,456,235
Options/Warrants Outstanding:
4,052,137 options – weighted average exercise price of $2.79
11,393,457 warrants – weighted average exercise price of $3.03
1,970,500 options – weighted average of $3.21
52 week share price low and high: $1.74 to $10.54
Current share price: $8.40 (at close of March 23)
Market cap: $676 million
Cash or cash equivalents (estimate) $200 million to $209 million
Note: All currency references in U.S. dollars.
The AURA, AURION and AURORA Clinical Trials
To avoid confusing readers, Aurinia has three different clinical trials, which it has conducted or will be conducting using voclosporin to treat LN:
the first is the 265-patient double-blind Phase 2B trial called the AURA trial, whose 48-week top-line results were released on March 2, 2017, and has caused such excitement in the market;
the second is a small 10-patient open-label trial called AURION discussed below; and
the third is the upcoming Phase 3 trial involving 320 patients, about to enroll patients next month (most likely, or shortly thereafter), called the AURORA trial. [MORE]