Drug middlemen have slim profits–if you ask them
Accounting approach plays down rich profits, critics contend

CVS, Express, OptumRx say their tally reflects credit risk
Companies of all kinds try to present their financial results in the best light possible to attract investors. One segment of the drug industry is bucking that trend, using an accounting method that narrows its profit margins.
The three big middlemen for prescription drugs, known as pharmacy benefit managers, or PBMs, had operating-profit margins last year of 4 percent to 7 percent, a level that lags the 16 percent average among S&P 500 companies. Were they to tally their revenue the way many middlemen in other industries do, their margins would more than double.
Several drug industry analysts said that booking revenue in a way that shows lower margins might have helped the companies deflect criticism of their pricing practices. "It hides a lot. It's as simple as that," said Ravi Mehrotra, a partner at the MTS Health Partners investment bank.
High margins are generally a lure for investors. But several analysts cautioned that very high margins in this industry could be unsustainable given the political pressure to control drug prices.
The PBMs' method of counting complies with generally accepted accounting principles. Regulators haven't expressed displeasure with the way these drug middlemen — namely the PBM units of CVS Health Corp., Express Scripts Holding Co. and OptumRx (part of UnitedHealth Group Inc.) — present their revenues, costs and margins.
It's a judgment call and both approaches can be reasonably justified in this case, said Barry Epstein, a forensic accountant at Epstein + Nach in Chicago.
Representatives of the PBMs said the companies' accounting treatment best reflects the nature of their business. They pointed to their annual reports, which describe their reasoning. Among other factors, the PBMs manage the process of getting prescription drugs to customers, take on credit risk and negotiate prices, they said.
"We believe gross accounting is appropriate as we are the principal in these transactions," CVS spokeswoman Christine Cramer said by email.
Together, the three companies account for about 70 percent of the PBM market. Their shares have fluctuated this year as lawmakers have debated a health-care overhaul and investigated rising drug prices. So far this year, Express Scripts shares have lost 4 percent, while CVS has lost 0.5 percent. UnitedHealth is up 3.1 percent.
Drug Prices
The distinction between the accounting approaches is significant. The drug industry is receiving heavy criticism over spiraling prices. Consumer groups and lawmakers alike want to know who's to blame, and President Donald Trump has threatened to get directly involved in setting drug prices.
Executives of the major drugmakers, forced to defend their practices to Congress, have tried to shift attention to the PBMs, which make their money as a go-between among drugmakers, retailers, insurers and consumers. Many drugmakers and pharmacists have alleged that PBMs aren't transparent enough and that it's hard to tell how they're making their money.
The current system "allows these drug middlemen to extract enormous profits with limited oversight and transparency," said Susan Pilch, vice president for policy and regulatory affairs at the National Community Pharmacists Association, which represents 22,000 independent pharmacies. The group's members are participating in numerous lawsuits against the PBMs over fees and other contractual issues.
Agent or Principal?
The core question is what kind of business a PBM is. These companies help get products from providers to buyers. Sometimes they handle orders themselves via in-house mail-order services. Other times they use third-party retail pharmacy networks and therefore don't take physical control of items like insulin vials or cholesterol-lowering capsules.
So are they an agent like, say, Expedia Inc. in travel or eBay Inc. in e-commerce? Or are they a principal like the retailer Walgreens Boots Alliance Inc.?
When Expedia books a $100 hotel room, it typically counts as revenue only the sum that it pockets through commissions and other fees, and calculates its profit margins from that. Walgreens and other retailers, by contrast, account for the full value of many of the goods they sell in their top-line figures because, among other factors, they take control of the goods before selling them.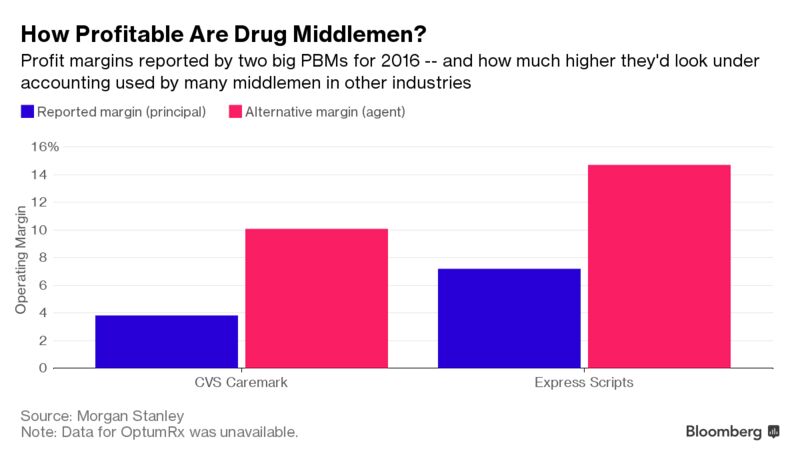 For the most part, the big PBMs treat themselves as principals when they tally their sales — which means they book the entire value of drug transactions as revenue.
Often, the PBMs are indeed playing a textbook role as principal, taking ownership of drugs before dispensing them through their sizable in-house mail-order pharmacies. A Morgan Stanley analysis this month estimated that more than half of the revenues reported by the two biggest PBMs represented transactions in which they processed payments but didn't handle products.
Specifically, this "pass-through revenue" accounted for 51 percent of the total recorded by Express Scripts and 62 percent at CVS's PBM unit, Caremark, in 2016, the bank said. It wasn't possible to analyze OptumRx because UnitedHealth doesn't break out the results of its PBM unit in a comparable way.
Profit Picture
Strip out these pass-through revenues for Express Scripts and CVS, and their operating margins more than double to 15 percent and 10 percent respectively, according to Morgan Stanley. That's higher than the 2 percent average for distributors and 8 percent average for retailers, making PBMs the most profitable operators in the health-care supply chain in 2015, according to another Morgan Stanley report.
"Pass-through revenues cloud the true economics of the PBM business," the Morgan Stanley analysts wrote a year ago, without ascribing a motive.
Some middlemen in other industries use similar accounting methods. For example, C.H. Robinson Worldwide Inc., which uses third-party shipping companies to move freight for its clients, reported $13.1 billion in gross revenue in 2016. But its annual report also discloses net revenue of $2.3 billion and says it considers that figure its "primary performance measurement."
By counting in their revenue and costs the value of the ingredients that go into the drug, the dispensing fee paid to the pharmacy and other pass-through items, the three big PBMs book enormous revenues — $277 billion combined in 2016 — and thin profit margins.
Public Perception
To counter claims that the PBMs are contributing to rising drug prices, industry lobbyists recently rolled out a promotional campaign aimed at Washington policy makers with the message that the PBMs are part of "drug benefit solutions." The industry says it serves a vital role in the complex health-care ecosystem and helps keep drug prices in check, in part by forcing drugmakers with rival products to compete on price.
That's partly true, said Bartholomew Clark, a pharmacy professor at Creighton University in Omaha, Nebraska, who has been researching the industry for 15 years and questions its accounting practices. "They have a good business model and do perform a useful service," he said. "But the incomplete exchange of information makes it possible for profit to become egregious."