Corium's patch approach to drugs for major conditions
CORI is developing patch forms of existing blockbuster drugs for Alzheimer's disease.
CORI already has positive interim data for one of these drugs.
Full data from the pilot bioequivalence study is expected in May 2017.
CORI will initiate new trials in 2017 and may generate further clinical data within the year.
Corium International, Inc. (NASDAQ:CORI) is a biopharmaceutical company with a market cap of approximately $130 million, pipeline candidates in development for Alzheimer's disease and osteoporosis, as well as approved drugs with partners such as endo pharmaceuticals (Figure 1).
Figure 1: CORI develops transdermal formulations of drugs, some of which are already marketed by its partners.
Source: Pipeline page on the company's website.
CORI is developing a patch formulation of the blockbuster donepezil
The focus of this article is mainly to highlight the potential that the two Alzheimer's disease candidates have to bring value to potential CORI investors. Corplex Donepezil is a transdermal formulation of the current standard of care in Alzheimer's disease, donepezil. The currently approved formulation of donepezil is marketed as Aricept by Pfizer (NYSE:PFE) and is usually taken orally once a day. In the treatment of Alzheimer's disease the dose of donepezil is often increased from 5 mg per day to 10 mg per day when a greater therapeutic response is desired. While increasing the dose of donepezil from 5 to 10 mg offers an increase in the efficacy of the drug, it also increases the side effects of the drug which sometimes necessitates discontinuation of the drug. One of the factors which seems to influence the incidence of side effects with donepezil is the rate at which the dose is titrated upwards.
Table 1: Comparison of two titration regimes for donepezil. Note the incidence of gastrointestinal side effects such as nausea, diarrhea and vomiting.
Source: Prescribing information for Aricept, the oral formulation of donepezil.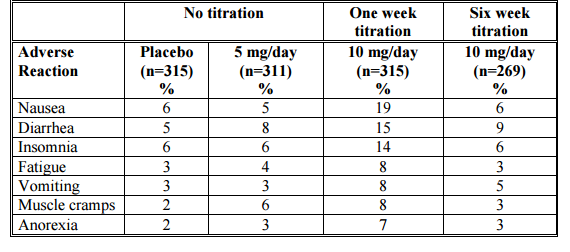 It can be seen that increasing the dose of donepezil from 5 to 10 mg per day over six weeks has little influence on the rate of side effects. Attempting the same increase over one week however has a marked effect (Table 1). It seems likely then that sudden changes in the concentration of donepezil and not just the total concentration within the body influence the rate of side effects. Since a transdermal formulation of donepezil will offer more gradual changes in the concentration of donepezil it may provide a reduced incidence of side effects. CORI's Corplex Donepezil requires a patch to be applied once a week. More importantly the fact that the GI tract will not be directly exposed to the drug will reduce the incidence of nausea, vomiting and diarrhea, providing a marketing advantage over oral donepezil.
Corplex Donepezil looks good so far, with more data to come
CORI is currently running a pilot bioequivalence study which compares oral donepezil at 10 mg per day (control arm) to two patch based formulations which are intended to produce equivalent concentrations of donepezil in the blood relative to the control arm. Preliminary data already indicates that both patch formulations indeed produce concentrations of donepezil in the blood very similar to oral donepezil at 10 mg per day. Full data from the study is expected in May 2017 and so represents a key near term catalyst for CORI. Preliminary data also indicates that administering donepezil via the transdermal route is indeed superior to the oral route in terms of nausea, vomiting and diarrhea.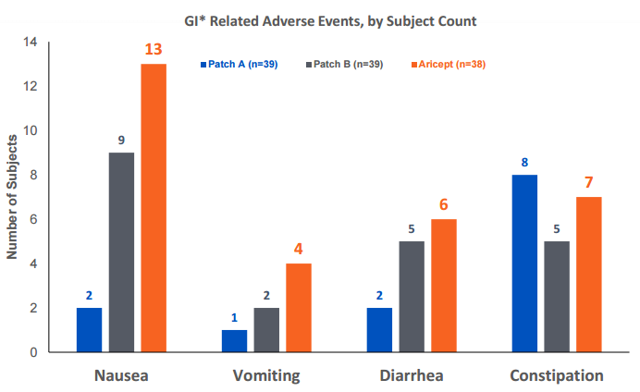 Figure 2: Rates of gastrointestinal side-effects in the pilot bioequivalence study (preliminary data).
Source: Slide 26 of recent investor update.
The data with regards to the side effect of constipation are mixed. I think that in a larger study the benefit seen with patch A on nausea, vomiting and diarrhea will surely hold up. The effect of patch A on constipation is only 1 percent greater than oral donepezil and might not be statistically significant, even in a larger study. In any case full data from the pilot BE should add additional weight to the conformation that transdermal donepezil is superior to oral donepezil in terms of the side effect profile.
Corplex Memantine can be developed similarly to Corplex Donepezil
The company also plans to develop a patch formulation of memantine, which is currently used as an add on medication in Alzheimer's disease in oral form. Memantine has a different mechanism of action to cholinesterase inhibitors like donepezil but the same principle applies with developing a patch formulation, that is, reducing GI side effects by avoiding direct exposure to the GI tract. The company has not provided much information on when bioequivalence studies for memantine will begin although Corplex Memantine is referred to as "following closely" in regard to Corplex donepezil. It is unclear how closely Corplex Memantine will follow Corplex Donepezil but I'll provide the development timeline for Corplex Donepezil and allow investors to generate their own timeline (Figure 3).

Figure 3: Development timeline for Corplex Donepezil.
Source: Company website.
Will these patches actually sell?
Exelon Patch is a once-daily patch form of the drug rivastigmine (also a cholinesterase inhibitor like donepezil) which achieved revenues of approximately $646 million for the 12 months ending in June 2015. Rivastigmine is also available in capsule form, to be taken orally once-daily (and indeed the capsule form of rivastigmine has been generic since 2010). The fact that Exelon Patch sold so well despite the fact that the drug was available in a cheap generic oral formulation shows that a patch form of a cholinesterase inhibitor can sell quite well, even when the oral form of the drug goes generic. The example of Exelon Patch is particularly relevant to Corplex Donepezil because it too will have to compete with generic forms of donepezil taken orally. In the case of Corplex Donepezil, one might argue that the advantage of the patch form might be even more pronounced since a single patch lasts 7 days, making administration of the drug a once-a-week, rather than once-a-day problem.
Cash situation
CORI reported year end cash for 2016 of $33.1 million. On February 7, 2016, CORI closed a public offering bringing in gross proceeds of $20 million. In a recent presentation CORI reported pro forma cash of $51.6 million (which seems to suggest net proceeds of $18.5 million). CORI reported a net loss in Q4'16 of $10.4 million. Assuming the company continues to burn cash at this rate, cash on hand was likely closer to $41.2 million at the end of Q1'2017. The company also has $51 million in debt due June, 2019.
The burn rate may increase significantly throughout 2017 since the pivotal BE study for transdermal donepezil will be more costly than the pilot bioequivalence study was. The initiation of pilot bioequivalence studies for memantine may also increase the cash burn rate. The burn rate may be reduced by the launch of Twirla, a contraceptive developed by Agile Therapeutics (NASDAQ:AGRX) in partnership with CORI. Note that is unclear what sort of revenues Twirla might generate if approved since recent clinical data were mixed (although some have suggested they were acceptable). In any case Twirla won't be submitted to the FDA for approval until the end of Q2'17 and so probably won't generate revenues until 2018.
One potential additional source of cash in 2017 might come in the form of a partnership. The CEO stated specifically on the Q1 2017 earnings call that the company plans to enter into "at least one partnership by year-end." The CEO also discussed the interest the company had received from multiple potential partners. A partnership resulting in an upfront payment might preclude the need for another offering in 2017.
I feel another offering might not be far away for CORI even though an offering was just completed in February. CORI longs need to be prepared to take any profits following positive developments (such as data from the bioequivalence study in May, 2017) or be willing to hold through additional offerings which might adversely impact the share price. I do see a partnership as a possibility but I don't feel it is responsible to suggest that one is likely (even if I think it is). I don't like playing the waiting game when it comes to partnerships.
Recommendation
I recommend a long position in CORI because full data from the pilot bioequivalence study will likely be very positive based on the interim data so far. The initiation of the pivotal bioequivalence study for Corplex Donepezil and pilot bioequivalence study for Corplex Memantine represent key milestones for the company which should easily be achieved. While the company has not said much about the timeline for initial studies with Corplex Memantine, it is possible we will see interim data for Corplex Memantine just shortly after the 5 week mark of the study, as was seen with Corplex Donepezil. I certainly don't recommend a short position because it is possible the company finds a partner for Corplex Donepezil once full results from the pilot bioequivalence study are in hand.