Teva to sell assets such as women's health to reduce debt
Drugmaker names Michael McClellan as interim CFO from July 1

Peterburg boosts cost-savings goal to $1.5 billion for 2017
Teva Pharmaceutical Industries Ltd., the world's largest maker of generic drugs, plans to divest some assets including its global women's health and European cancer and pain-treatment divisions to reduce debt.
Interim Chief Executive Officer Yitzhak Peterburg set a more ambitious target for cost-reductions this year, raising the goal to $1.5 billion, and promoted Michael McClellan temporarily to the post of chief financial officer, effective July 1. Shares of Teva jumped by the most in about three months as the drugmaker's first-quarter profit fell less than analysts' had expected.
The steps announced on Thursday will likely ease at least some of the challenges that confront the drugmaker. Teva is still looking for candidates to replace its top managers, and to counter eroding sales of its top-selling drug, Copaxone. A new chief executive officer would need to devise a strategy to boost growth and ultimately convince investors to buy back into the stock, which is trading near an 11-year low.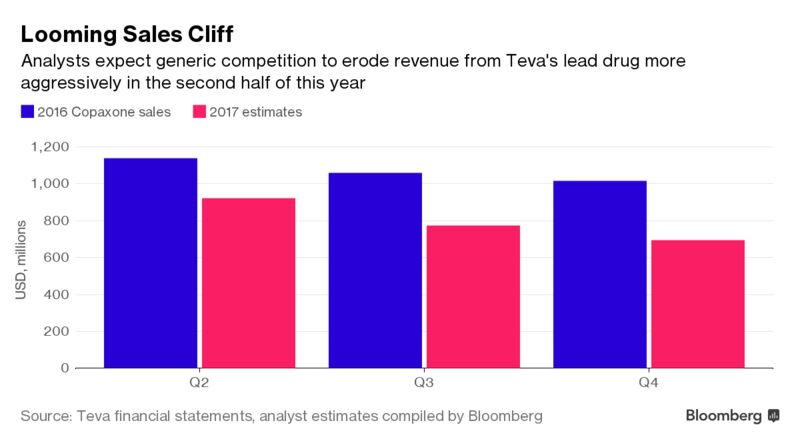 Shares of Teva jumped 5.1 percent to 116 shekels as of 2:40 p.m. in Tel Aviv trading, after earlier climbing by the most since Feb. 15.
Teva last year paid about $40.5 billion to buy the generics business from Allergan Plc just as prices of cheap copycat drugs began to fall. The ill-timed move saddled the drugmaker with almost $36 billion in debt, forcing Teva to slash its profit forecast twice, and eventually led to the exit of Chief Executive Erez Vigodman in February.
The company is working with Morgan Stanley to help find a buyer for its women's health business, Bloomberg News had reported last month. The unit, which makes fertility and menopause treatments as well as contraception, could fetch as much as $2 billion, people familiar with the matter had said, asking not to be identified because the deliberations are private.
Asset Sales
Teva is also speaking with financial advisers about the possible sale of the oncologybusiness, which includes treatments for leukemia and a slow-growing form of lymphoma, people had said last month.
Profit excluding some costs declined to $1.06 a share last quarter, the Petach Tikva, Israel-based company said in a statement on Thursday. That beat the $1.03 average of 19 estimates compiled by Bloomberg. The company also reiterated its forecast for 2017.
Sales of Copaxone, an injection for multiple sclerosis, dropped 4 percent to $970 million. U.S. courts invalidated patents shielding Teva's 40 milligram version of the drug, providing legal cover for rival companies to sell cheaper copies in its most lucrative market. Momenta Pharmaceuticals Inc., which markets a less potent form of Copaxone with Novartis AG's generic drug unit, said last week it is aiming to launch a 40-mg rival in the second half of this year.
Chief Financial Officer Eyal Desheh last month became the latest in a series of top executives exiting the Israeli company, with plans to leave in coming months for a new role at another firm. Sigurdur Olafsson, the former head of the global generics division and one of the architects of the deal with Allergan, quit in December.