Cara Therapeutics' next catalyst: Osteoarthritis
This article focuses on Cara Therapeutics' CR845 being utilized for osteoarthritis.
Since my last article, Cara has released statistically significant and clinically meaningful results for CR845 in uremic pruritus.
Also, the company strengthened their finical position by raising 86.5 million dollars in net proceeds.
I have reduced my overall exposure to Cara Therapeutics, it was one of my largest holdings, but I'm still optimistic about the company's prospects moving forward.
Boilerplate warning: small capitalization biotech stocks are highly volatile. Furthermore, individual small cap biotech stocks are rarely suitable for the average retail investor.
Upcoming Catalysts
CLIN3001: I.V. CR845 – Acute Post-Op Pain
450 patients, 23 Sites, Interim Readout: Q2, 2017
CLIN2002: Oral CR845 – OA Chronic Pain
330 patients-expanded to 480, 31 Sites, Topline Readout: Q2, 2017
Opening Thoughts
Cara Therapeutics (NASDAQ:CARA) has been having a terrific 2017.Shares are up nearly 85% since the start of the year and the company recently released positive data for CR845 in uremic pruritus. Furthermore, the announcement of positive data allowed the company to raise money at a favorable valuation. I wrote an article back in January stating that I thought that the uremic pruritus data would be positive and that I would be holding through the UP-data release: "Cara Therapeutics represents one of my largest small capitalization biotech stock holdings and I will be holding through the uremic pruritus data release".
I rarely ever outright long a small cap bio that is still early in the developmental stage, and I typically don't hold through data releases. However, I thought that Cara had an above average chance at delivering positive results, and the reward to risk scenario presented when I first bought the shares, around $7 a share, was too good to pass up. The stock ran up hard ahead of the data release. I sold half of my position around $16 a share, which was my post data price target, and another half of what was left around $20 a share. Thus, I'm currently left with a quarter of my original position. I will be holding through the upcoming catalysts given the upside opportunity; the fact that the company has a good chance at delivery statistically significant results on the OA trial; and due to how I have been able to manage my risk and lock in gains along the way.
Overview of CR845
CR845 is a small synthetic peptide designed to limit its entry into the central nervous system, which means that the therapeutic primarily binds to kappa opioid receptors that are found on peripheral neurons and immune cells. CR845 is a potential game changer due to its selectivity. CR845 is an agonist that targets kappa opioid receptors without detectable activity at other receptor such as Mu or delta receptors. Thus, Cara Therapeutics' CR845 doesn't cross the blood-brain barrier. This is a big deal because you could deliver the desired effect of the therapeutic without producing the negative side effects associated with the typical clinical profile of mu opioid agonists.
CLIN2002: Oral CR845 – OA Chronic Pain
Osteoarthritis
Osteoarthritis is the most common chronic condition of the joints. OA happens when the cartilage between joints deteriorates, which leads to stiffness, pain, swelling, and a reduction in mobility. The primary causes of OA are one's genes, weight, injuries, bone and joint disorders, metabolic disorders, and overuse. OA is typically broken down into four stages: minor, mild, moderate, and severe. As the damage to the patient's cartilage increases, the patient advances through the four stages. The CLIN2002 trial is testing an oral version of CR845 for the treatment of moderate to severe OA.
A patient's cartilage loss will be highly visible on an X-ray by the time that they progress to the moderate stage. Also, joint inflammation will naturally start to increase and become more of a problem as the cartilage thins. The bones will react to the thinning by becoming thicker, which will lead to lumps and a further reduction of fluid around the joint. Often patients with moderate to severe OA will feel major discomfort when performing a task a routine as getting one's mail.
Current treatments
There are a variety of ways to combat OA as it progresses, but I will focus my discussion on the more robust options that are currently available to treat pain and inflammation. Patients with moderate to severe OA utilize the following six categories of treatment.
Prescription Strength NSAIDs: a common go to option when the OTC painkillers are not cutting it. These are a fairly safe option, but provide limited pain relief.
COX-2 Inhibitors: an updated version of NSAIDs, which were developed to relive inflammation/pain without causing irritation to the stomach like a traditional NSAID. COX-2 inhibitors are fairly safe, but provide limited pain relief.
Duloxetine: is the generic name for Cymbalta, which is a product of Eli Lilly (NYSE: LLY). Cymbalta is a serotonin and norepinephrine reuptake inhibitor. It was first approved in 2004 for major depressive disorder, but was later approved for the treatment of musculoskeletal pain. Cymbalta was the first non-NSAID, nonopioid analgesic indicated for the treatment of chronic pain. It was approved based on 5 studies that found it significantly reduced pain when compared to placebo. Cymbalta is not seen as addictive in the traditional sense, but individuals can go experience withdrawal like symptoms after they stop using the drug. Furthermore, Cymbalta has a black box warning from the FDA. Overall, Cymbalta is seen as a moderately safe option that provides limited pain relief, similar to NSAIDs.
Opioids: Methadone, Percocet, Percodan, OxyContin (oxycodone), Vicodin, Lorcet, and Lortab are all examples. Opioids can often be highly effective, but they are highly addictive and can lead to various health problems.
Joint Injections: Steroids and hyaluronic acid are the go to options in this space. Steroids are effective and well tolerated, but their effect wears after 2 to 5 weeks. Hyaluronic acid is a substance found in joint fluid. Hyaluronic acid is well tolerated, but in clinical trials the treatment has only proved to be marginally better than placebo. Also, I would be remiss not to mention a new treatment that is likely to gain FDA approval in the near future. Flexion Therapeutics (NSADQ: FLXN) has created a new treatment called Zilretta. Zilretta fits nicely into the current landscape of available treatments because it's not addictive, its fast-acting, and it's well-tolerated. Furthermore, Zilretta really separates itself from its competition by being a treatment that has a long-lasting effect. A single injection of Zilretta can provide relief for up to 3 months, which is 3 to 6 times longer than the currently available joint injection treatments.
Surgery: is the final option for severe cases of OA. Common surgeries include joint replacement surgery, arthroscopic surgery, and joint fusion.
The Overall Market
The overall market opportunity is quite large. Osteoarthritis accounts for $185 billion in annual US health care expenditures. OA is most common is individuals who are 65 or older. Overall, approximately 27 million Americans are affected by OA. According to the Arthritis Foundation, one in two adults will develop OA symptoms in their lives. Also, 25% of adults will develop OA symptoms in their hips by the age of 85. Furthermore, OA is becoming more common due to Americans having poor diets and an increasingly sedentary lifestyle. For example, the average person diagnosed with OA in 1992 was 72 years old, but now the average age of diagnosis is only 56.
Past Results for the OA indication
The goal of the phase 2a trial was to assess the safety and tolerability of the orally-administered CR845 in patients with OA of the hip or knee. The trial showed that CR845 was safe and well tolerated with no drug related SAEs. However, what was most interesting about the phase 2a results were the secondary outcomes. Half of the patients in the 5.0 mg dose group reported at least a 30% reduction in their pain score at the end of the treatment period. Furthermore, there was a dose related reduction observed in mean baseline pain score, NRS, of up to 34% after two weeks, with a statistically significant reduction in mean rescue medication for the 5.0 mg dose. This is important for two primary reasons. First, the NRS is being utilized as the primary outcome measure in the phase 2b. Second, the 34% change from baseline compares quite favorably to the currently available treatments.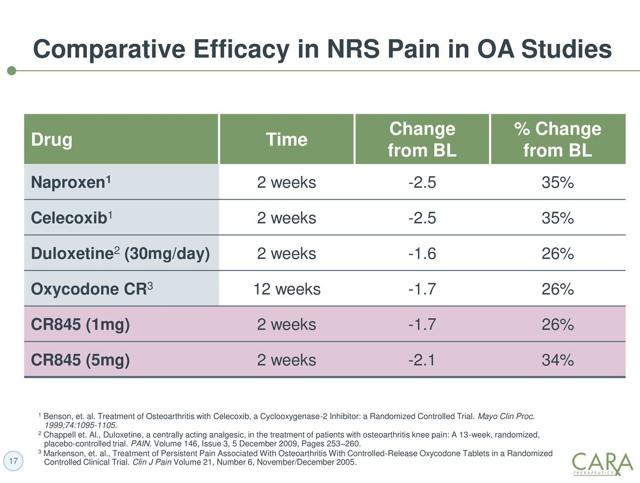 I think there's good reason to think that Cara will be able to deliver statistical significant results on their phase 2b trial. I encourage potential investors to be familiar with both the phase 2a trial and the phase 2b trial. (Clinicaltrials.gov)
Trial Design for: CLIN2002: Oral CR845 – OA Chronic Pain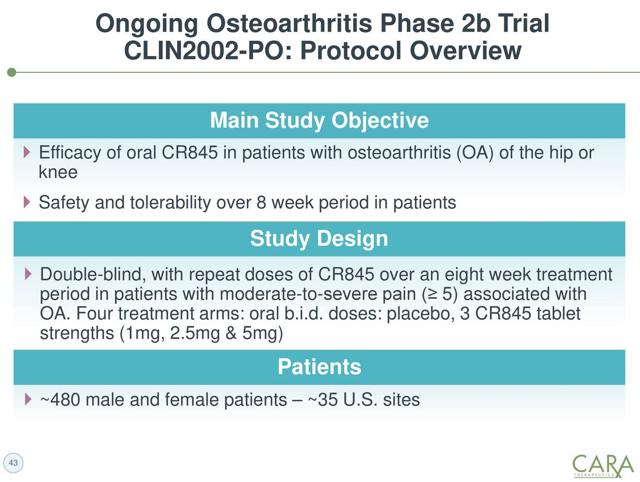 Financial Position
The company is currently well capitalized. As of March 2017 the company had $36.8 million in cash and cash equivalents. However, the company netted $86.5 million when they raised capital in April. Based on the company's burn rate, I estimate that the company currently has around $112 million in cash and cash equivalents. The company stated that their current finical position will last them into 2019. The company's guidance seems plausible, but I think it's a little optimistic based upon the company's burn rate. The company's guidance suggests that they will burn around $19 million a quarter, but just last quarter they spent $22 million. The expenses have been increasing over the past few quarters and will most likely stay elevated. However, this obviously doesn't factor for potential milestones, partnerships, etc.
The Street's Perspective
Analysts on the Street have a favorable view of Cara Therapeutics. There's currently nine buy ratings, one hold rating, and zero sell recommendations. The consensus price target is currently at $27.36, which represents an upside of 59.28%. The latest activity from the analyst community comes by way of Cantor Fitzgerald on the May 12, 2017. The firm gave Cara an overweight rating and lowered their price target by a dollar to $25.
Smart Money Flows
Number of institutions holding a position: 98
Number of shares held by 13F filers: +19.10% from the last filing period
Number of firms that have CARA as a top 10 holding: 1
Number of firms that have CARA as a top 50 holding: 7
Number of firms that have CARA as a top 100 holding: 10
Funds creating new positions: 30
Funds adding to an existing position: 30
Funds closing out their position: 12
Funds reducing their position: 25
Largest Holder: Rho Capital Partners own 3,068,057 shares, which represents 11.24% of the total equity. Furthermore, the position makes up 21.84% of Rho Capital's total portfolio.
Concerns I Have–(Food for Thought)
The trial in post-op no longer has the high dosage of 5.0 ug/kg. T his concerns me because past trials would suggest that the higher dose is likely more effective than the lower doses when it comes to pain relief.
The trials have only compared CR845 against a placebo. This is okay because there are other ways to compare CR845 to the competition and it's still early going, but nothing beats a head to head comparison. It's a concern because the market share that CR845 will ultimately get is highly dependent upon how effective it is relative to other drugs. I think too many investors assume that the drug will be a blockbuster if approved because its non-addictive, doesn't have the side-effects of an opioid, there's a massive opioid crisis in America, etc. However, Trevena (NASDAQ: TRVN) shows that simply being an analgesic with a nice safety and tolerability profile isn't enough to take the acute post-operative pain market by storm. CR845 is different from Olinvo in that it is a non-addictive treatment, but the market opportunity will be reduced if it's not as effective as the opioids/opiates that are currently available. Trevena's Olinvo is a mu opioid drug like oxycodone, but it selectively activates pain-relieving pathways and avoids the pathways associated with the adverse effects that come along with opioid drugs. It sounds like a potential blockbuster because the value proposition is similar to CR845's. However, Trevena's stock priced fell nearly 40% after delivering positive phase 3 trial results. How could this be? Well, the drug met its primary endpoint of reduction in pain relative to placebo, but performed poorly relative to morphine. An improved safety and tolerability profile over morphine is great, but it's not enough to grab the kind of market share that investors are dreaming about. An analyst from Oppenheimer expounded:
"While we believe the data will support Olinvo's FDA approval with a broad label, in our view, Olinvo's efficacy and safety data relative to morphine has left investors questioning Olinvo's potential "marketing hook" since the comparative data were mixed. We think the sell-off is warranted to some degree as it is unlikely Olinvo will be able to gain any favorable comparative claims to morphine in the drug's label. However, we still believe Olinvo is commercially viable and will be able to serve as an important treatment option, particularly for patients at high risk of opioid-related AEs."
My bottom line
Overall, I remain positive on Cara Therapeutics. However, one must remember that we are dealing with a small cap biotech, so risk management is vital. Don't oversize your position, take a systematic approach to realizing gains as the stock appreciates, and reduce your exposure ahead of high volatility events. Never forget that you will have numerous opportunities to make significant gains If Cara truly is one of those rare small-cap bios that go on to be a mid-cap.