More reasons Valeant may have bottomed
Valeant Pharmaceuticals rallied 35 percent last week.
First-quarter results show the company's prospects are improving.
5 reasons the rebound will hold.
The proverbial time will tell if the 35% bounce in the share price of Valeant Pharmaceuticals (NYSE:VRX) will hold. After the company reported first-quarter results, trading volume spiked on the day at levels not see in over one year, possibly due to short-covering. With earnings up nearly threefold, cash flow up 71%, and non-GAAP EBITDA guidance raised, Valeant still has upside. There are five reasons the rebound in Valeant's stock may hold.
1/ Revenue Stability and Higher Outlook
Valeant raised its Non-GAAP EBITDA from $3.55 billion – $3.7 billion to $3.6 billion – $3.75 billion. Helped by stabilizing ASP in dermatology, growth in Asia, and an end to sales staff turnover at Salix, management expect free cash flow growing better this year:

Source: Valeant Pharmaceuticals
The company paid down $1.3 billion in debt in the first quarter and $3.6 billion since Q1/2016. The sale of three skin care franchise closed on March 3. Debt refinancing during the period, which has fewer covenants, will give Valeant the operational flexibility to turnaround the business.
Salix, which underperformed in the quarter, should report better sales the rest of the year. Rumors of a Salix sale disrupted the business as many sales reps defected to a competitor. The unit managed to gain 200 basis points of TRx along with a 310bp hike in Xifaxan's net selling price. Management expects the renewed sales force will catalyze higher sales in the second half of the year:

Source: Valeant Pharmaceuticals
Salix revenue fell 11 percent, as did revenue from Dermatology:

Valeant raised its revenue and adjusted, non-GAAP, for the full year: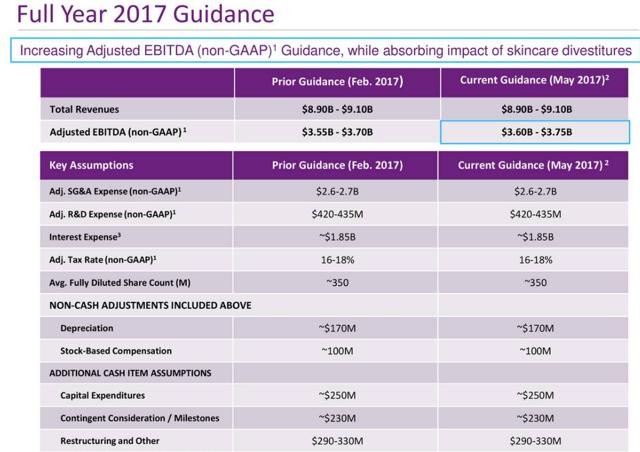 Source: Valeant Pharmaceuticals
2/ Upcoming Products
Investors will watch for SILIQ's launch in the current quarter but Valeant has six more products in the pipeline. The products are:
IDP-118 for psoriasis ULTRA contact lenses Stellaris Elite Vitesse Luminesse (PDUFA on Dec 27, 2017) Vyzulta (PDUFA on August 24, 2017)
IDP-118 is of particular importance because its re-formulation may help Valeant grow its market share. The TAM (total addressable market) for Psoriasis may double to $13.3 billion by 2024. Valeant has a sales force of 150 supporting sales of SILIQ. If the FDA approves IDP-118, the same team will demonstrate effective selling for the two drugs.
3/ Positive Earnings
Valeant reported positive earnings of $1.80 a share, compared to a loss of $1.08 last year. GAAP cash flow improved to $954 million. $200 million of that came from Walgreens Boots Alliance, Inc. (NASDAQ:WBA). Cash flow also benefited when management cut working capital.

Source: Valeant Pharmaceuticals
Despite cutting expenses, Valeant's non-GAAP EBITA/EBITDA still fell 15 percent. Importantly, R&D spend rose 7 percent in Q1. As cash flow improves throughout the year, expect management raising its spending in this area should it need to.

4/ B+L Stabilizing
Adjusted for constant currency, revenue from Bausch + Lomb grew 4 percent. Management is still adjusting operations to squeeze in more efficiencies. Since it accounts for over half of the company's business, a favorable product mix with new product releases, along with higher operating efficiencies will lead to higher profits from the division.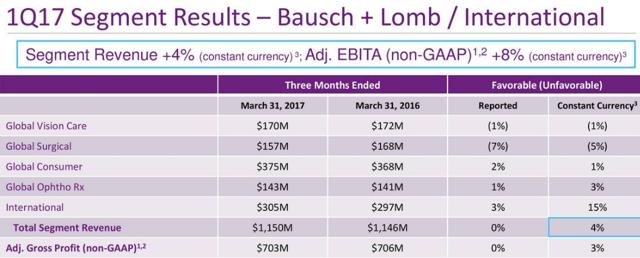 Source: Valeant Pharmaceuticals
5/ Debt Reduction
Similar to Teva Pharmaceuticals (NYSE:TEVA) lowering its debt by $1.2 billion to $34.6 billion, Valeant also cut its debt in the quarter. Debt fell to $28.9B but more importantly, Valeant shifted ~75 percent of it to fixed, from floating rate. As the Fed embarks on a rate tightening cycle, Valeant must lower the risks associated with higher rates in the years ahead.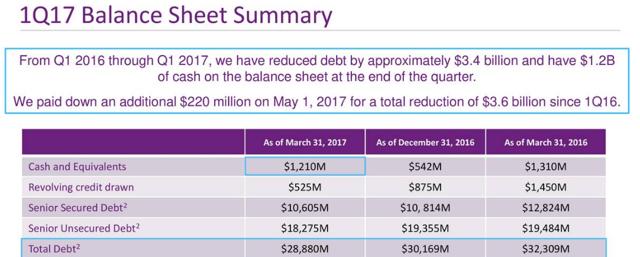 Source: Valeant Pharmaceuticals
Much of the company's debt maturity arrives in 2020, peaking in the year 2022:

Source: Valeant Pharmaceuticals
Valeant expects to pay down $5 billion in debt by February, 2018.
Takeaway
Valeant's stock could conceivably bounce back to the $20 per share range in the near-term. Investors may input their own assumptions using a 10-year DCF Revenue Exit model. Even assuming revenue declines through to FY 2018, break-even in 2019, and growth from 2020 – 2025 would imply a fair value of around $19/share:

Source: finbox.io