Student debt more than triples share of total households owe
Student debt has more than tripled as a share of total debt owed by U.S. households in less than 15 years, new data show.
Student loans made up just 3.3 percent of total household debt in 2003, for a sum of $240.7 billion, according to estimates on Wednesday by the Federal Reserve Bank of New York. That sum is now about $1.3 trillion, or about 10.6 percent of all U.S. household debt. 1
The jump reflects higher tuition and campus-related costs, more people seeking higher education (partly because of the Baby Boom), and declines in state appropriations to public colleges and federal grants to students relative to rising college costs. One in six American adults, or 44 million people, has a student loan.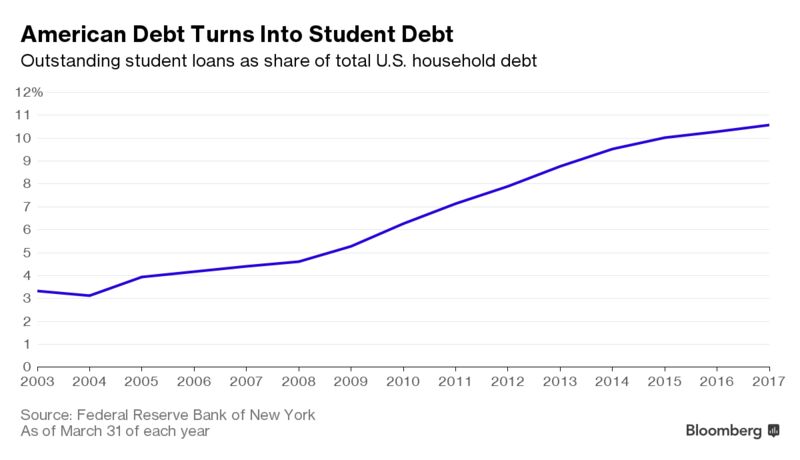 To some, the increase in student debt is largely a good thing. More Americans are going to college, and workers with college degrees tend to make more money than those without them.
But graduation rates haven't increased much over the past decade, U.S. Department of Education figures show, leaving millions of Americans with debt and without the means to repay it. What's more, the increase in pay in recent years for bachelor's degree holders has barely outpaced inflation. That leaves a generation of young workers with student debt burdens that far exceed what their predecessors had to repay, all the more sharply when compared with annual wages.
As a result, millions of Americans are unable to make their monthly payments or pay down their balances. The share of student debt that's severely delinquent (at least 90 days late) is more than triple the overall serious delinquency rate on all household debt, according to the New York Fed. During the Obama administration's eight years, an average of nearly 1.1 million Americans annually defaulted on their student loans. Federal financial regulators and bank chief executives have worried for years that an overly indebted generation of Americans burdened by student debt will curtail their spending, investing, borrowing, and saving for years to come.
For example, soaring student debt is one reason for a pronounced decline in households' credit card balances. In 2003, Americans had some $688 billion in credit card debt, or about $911 billion in today's dollars. As of March 31, Americans owed $764 billion on their credit cards. Adjusted for inflation, that's a 16 percent drop from 2003.