GNC: Insider conviction vs. shorts
Recent insider purchases at GNC show a stark contrast between shorts (~40% of float) and insiders (~2% of ownership).
Interim CEO Bob Moran just purchased an additional $2 million of stock.
Director Alan Feldman just purchased an additional $250k worth of stock.
GNC walked away from an unfavorable debt renegotiation – is the company demonstrating renewed strength?
Recent insider purchases at GNC Holdings (NYSE: GNC) have created an alarming contrast between shorts, who make up nearly 40% of the company's float, and the company's own insiders, who are buying shares in the open market at a notable pace.
The latest reported insider purchase comes from GNC Director Alan Feldman, who just bought 36,400 shares of stock at an average price of $6.8673 on May 16, 2017 – totaling $249,970 worth of stock purchased.
Source: SEC Form 4 Filings
Two days before that, SEC filings revealed that "Interim" CEO Bob Moran bought 300,000 shares of stock at an average price of $6.6855 (for a total of $2,005,650 in cash). This, after his purchase of 592,259 shares of stock at an average price of $8.44 on February 21, 2017 (totaling $5 million) – and around that same time in February other insiders purchased an additional $1.7 million of stock.
Source: SEC Form 4 Filings
This is a lot of insider purchasing, particularly given GNC's current market capitalization of less than $500 million. Short sellers might argue that insiders are delusional and collectively burning millions of dollars of capital on open market purchases of GNC stock, but they should also ask why GNC walked away from debt refinancing conversations when terms were not favorable to the company or its shareholders.
According to press reports out less than two weeks ago, it appeared that GNC would be able to refinance its term loan at 750 basis points, plus "additional protections." But the company rejected the terms – why? Perhaps because management sees the strength of the company's improving fundamentals. Whatever the case, GNC's actions demonstrate an unwillingness to negotiate from a position of weakness, or arguably distress. Perhaps this should be considered a reckless posture, but when management contemporaneously purchases nearly $9 million worth of stock, it might be worth considering a different analysis.
Which brings to mind what GNC shares represent today – the opportunity to invest in a company with demonstrated insider conviction, the early signs of revenue stabilization, massive cash flows relative to market capitalization, and the beginnings of a deleveraging effort.
Successful Deleveraging
Why is purchasing a highly leveraged company that is successfully able to reduce leverage a good idea? Because every dollar of debt repayment does two immediate things:
increases shareholder equity by decreasing balance sheet liabilities, and
increases the company's valuation multiple as financial leverage ratios improve and the company's prospects improve.
Further, the benefits are straightforward and don't depend on management's further, repeated execution on some new product launch or category – all they have to do is reduce leverage.
GNC projects it will earn $250 million in free cash flow for 2017 – an enormous sum equal to 51% of its market capitalization. What happens when you take that $250 million and use it to deleverage? By retaining those earnings and spending cash flow on paying down debt (unlike GNC's previous practice of undertaking excessive share repurchases and dividends), the company can immediately increase stockholder equity by the amount retained – and then some, because a more solvent GNC will have lower leverage, lower credit risk, and a great valuation multiple. Which brings us back to the positive reinforcing effect of investing in highly leveraged companies that are able to deleverage – your $1 in debt repayment can translate to more than $1 in value, arguably a good recipe for investment returns.
Charlatan futurists have envisioned a world where Amazon drone deliveries and self-driving FedEx trucks deliver vitamins via inhalable powder packets. That's fine, and that future may very well exist, but it's not here today, it won't be here next quarter, and investors who think they can chart the future are not investors, but psychics disguised as speculators. It's also worth keeping in mind that in that future, companies can still adapt, particularly companies with global reach and a recognized brand who are part of a growing industry.
To that last point, this is a major misconception that even GNC's analysts hold about GNC's industry: that it is declining. Not even close. This is an industry growing, per GNC CFO Tricia Tolivar's reference of industry estimates, at 5% to 6% annually. GNC isn't selling phone books, though its valuation would indicate otherwise.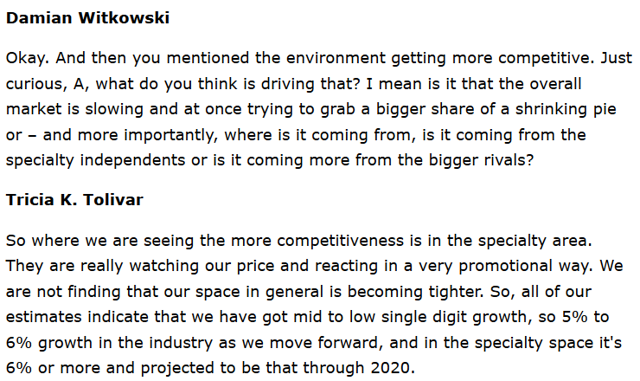 Source: GNC 2017 Q1 Conference Call
A note about GNC's actual per share stock price. Equities predominantly reflect companies – as they should, but on occasion it's worth separating out the two, particularly after a company has experienced the type of price decline GNC has and the company's very existence is called into question.
Comparisons of GNC's share price performance often neglect to mention the effect that the company's reduced share count has on its shares' valuation – more specifically, people reference the price decline without noting the corresponding decline in shares outstanding, which only makes the decline more alarming (or overly-exaggerated, depending on your outlook).
The company's beaten-down shares represent a greater amount of ownership of a high-cash generating business, due to poorly timed historical share buybacks. GNC has roughly 68.5 million shares outstanding today, but at the start of 2015 it had roughly 88 million shares outstanding, and at the start of 2016 it had roughly 76 million shares outstanding.

Source: YCharts
So GNC reduced its share count by 14% from 2015 to 2016 and another 10% from 2016 to today, meanwhile GNC shares lost 31% of their value between 2015 and 2016 and another 77% since 2016. To sum it up, there are 22% fewer shares today than in 2015 – and each share is worth 28.5% more of the business than it was in 2015, yet you can buy that same unit of ownership for 85% less today.

In order to justify that discrepancy, you really have to have a dire outlook on the future of this business and a high degree of conviction in your ability to forecast major macroeconomic trends and their immediate impact on particular retail companies. Keep in mind that share count discrepancy when comparing GNC stock today to its levels over the past two years; it helps highlight just how discounted GNC may really be.