How Radius Health osteoporosis med measures up
FDA recently approved Tymlos for the treatment of osteoporosis in postmenopausal woman.
Radius Health expects to receive an opinion from the EMA sometime in 2017.
Data from the 24-month ACTIVExtend trial for Tymlos is expected by the end of June 2017.
RAD1901, used to treat breast cancer, expected to progress to Phase 2 trials during the second half of this year.
Radius Health (NASDAQ:RDUS), a biopharmaceutical company out of Massachusetts, received early FDA approval for their drug, Tymlos. Shares for the company have experienced a sizeable decline in response to the news, with the majority of concerns surrounding the company's drug label and boxed warning. Radius Health represents a great swing play for investors and at the same time, a great long-term play. This article will dive into the details within the drug label and express an opinion on Radius Health as an investment opportunity.
Radius Health's recently approved product, Tymlos, is used to treat osteoporosis in postmenopausal women. Osteoporosis involves low bone mass and structural deterioration of bone tissue, which leads to weaker and more fragile bones. Most of the suffering population don't actually realize their bones are getting weaker, and they can suffer painful fractures from the slightest of falls. Radius Health is entering a crowded space, with two key competitors already approved, but the osteoporosis market saw $7 billion in revenues worldwide in 2016. The National Osteoporosis Foundation is also expecting $25.3 billion in patient costs by 2025, up from $19 billion seen today in estimated patient costs. There is plenty of space for Tymlos to be effective in this crowded, but growing market.
Tymlos will now be competing for market share with two key competitors. Eli Lilly & Company (NYSE:LLY) markets their drug, Forteo, for the same condition and Amgen (NASDAQ:AMGN) markets their drug, Prolia. Forteo saw $1.5 billion in sales for 2016, with $700 million coming from outside the United States. Prolia saw $1.6 billion in sales during the same year, which included $600 million from outside the United States. The revenue figures experienced for these drugs show that multiple players can take advantage of the growing osteoporosis market. Currently, Tymlos is only approved within the United States, so it is vital that the company gains approval outside the U.S. for additional revenue. Radius Health has submitted their MAA to the EMA and they expect to hear an opinion from the EMA sometime this year. The FDA is said to have the strictest requirements for new drugs, and so investors should keep an eye out for the likely EMA approval of Tymlos.
The first step in evaluating Tymlos, and the competition, is reviewing their respective drug labels in the areas of boxed warnings, drug administration, clinical data and adverse effects. Investors have grown frustrated with the stock performance for Radius Health, with some analysts claiming Tymlos' boxed warning as the reason why. This claim by analysts should be taken with a grain of salt. The drug label for Tymlos contains a boxed warning for the risk of osteosarcoma, a malignant bone tumor. It is unknown if this occurs in humans however, as the warning was issued because of the increased incidence of osteosarcoma in male and female rats. In the drug label for Tymlos' competitor, Forteo, an identical boxed warning was also issued. Amgen's Prolia has the advantage here, as no such warning exists.
The second step involves the drug administration. Tymlos is to be injected subcutaneously in the abdomen every day. Forteo would have a slight advantage in this area, as it also requires a subcutaneously injection every day, but a patient can decide to inject it in their abdomen or their thigh. Patients would likely be more inclined to inject the drug in their thigh rather than the abdomen. Amgen's Prolia, however, has the bigger advantage again in this area. Prolia is to be injected subcutaneously in the abdomen, thigh or the upper arm. Patients also have to administer it just once every six months, not every day. The negative is that a healthcare professional needs to be present, unlike Tymlos and Forteo. Tymlos is also being tested as a transdermal patch, which would be interesting, but there is still some time until that would reach the market, if at all.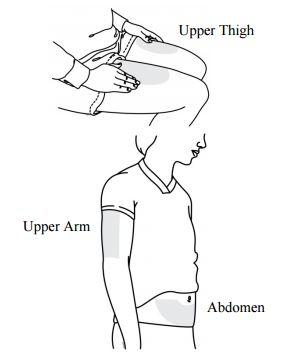 The primary endpoint in clinical trials for Tymlos was the incidence of new vertebral fractures compared to placebo. Tymlos was statistically significant with the incidence of new fractures at 18 months. Tymlos at 0.6% vs. 4.2% in placebo (p<0.0001). The absolute risk reduction of new vertebral fractures was also at 3.6% and the relative risk reduction at 86% (all after 18 months). Tymlos was also evaluated in nonvertebral fractures, with relative risk reduction at 43% and absolute risk reduction at 2%.
Forteo was showing absolute risk reduction at 9.3% in clinical trials and relative risk reduction at 65% for new vertebral fractures, while Prolia showed 3.5% absolute risk reduction and 71% relative risk reduction at two years. Below is a brief summary comparing these three drugs and their clinical results.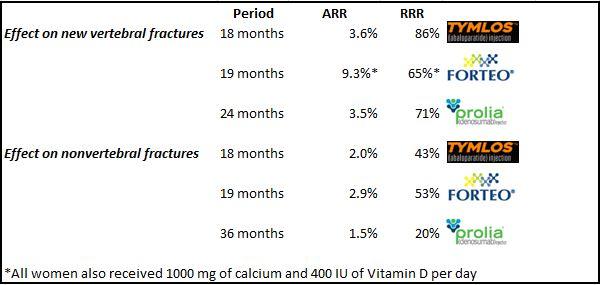 Investors are also strongly encouraged to review the side effect profiles of these drugs on their respective drug labels. Prolia has been on the market for some time now, and is associated with atypical fractures along with osteonecrosis of the jaw. Forleo's label has a lengthy list of reported side effects while Tymlos' label appears to be much cleaner. The side effect profiles of these drugs would favor Tymlos in my opinion. However, is it enough of a difference that the company steals significant market share? I don't think it is, but it certainly doesn't mean that Tymlos can't be a success.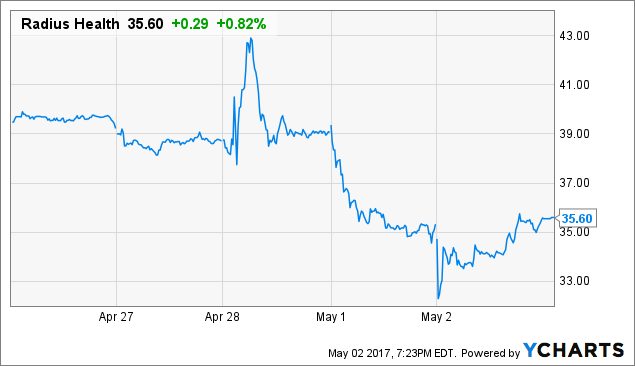 RDUS Price data by YCharts
Radius Health, as seen in the above chart, has been struggling as of late. As mentioned in the beginning of this article, analysts seem to be concerned about Tymlos' boxed warning, but that is a non-issue. With that, investors are now presented with a great swing play opportunity. It seems the stock is already starting to recover, as of 5/2/17, but shares in the $33 range I think would provide some solid gains for investors if they're able to buy in that range. The downward movement in the stock is unwarranted.
Radius Health also represents a great long-term play as well. The company will now be generating revenue in a market that is significantly growing. Again, the osteoporosis market currently has two competitors both making over $1.5 billion in sales, and Tymlos would help grow that market even more while generating $1 billion + in revenues for themselves too. Radius Health recently opened up new office buildings in Pennsylvania where they'll conduct commercial and medical operations. The buildings are located in the same office park where Shire (NASDAQ:SHPG) resides, a company I think will ultimately acquire Radius Health. The CEO for Shire, Flemming Ornskov, has been on record saying the company will look to acquire companies again late this year or early next year (the company has been quiet on the M&A front ever since their merger with Baxalta). I think you could see legitimate rumors come out once Radius Health is showing some sales progressions (usually around six months). At six months, that would be right around the annual JP Morgan Healthcare conference, one of the largest life science conferences in the world where Shire has a strong history of announcing mergers.
Even without a merger, investors should be excited about the company's long-term potential. It would start with sales for Tymlos. The company has hired 20 sales leaders who all have experience with osteoporosis and injectable therapies. The sales leaders will manage 200 or so sales specialists. The company also expects to distribute Tymlos through a network of distributors and specialty pharmacies, as mentioned in their annual report.
Outside of just Tymlos, investors should keep their eye out for the EMA approval of Tymlos (2017), along with data from the 24-month ACTIVExtend trial (by the end of June), RAD1901 Phase 2b trial (mid-2017) and the initiation of the Phase 1 trial in 2017 for RAD140.
Like all investments, there are significant risks involved, and Radius Health would be no exception. It's important that Tymlos gain EMA approval, and there is always a risk of the EMA issuing a delay of some sort or requesting additional trials. I would view that as unlikely, as they're already FDA approved, but there is always a chance. Investors would also run the risk of the catalysts in the above paragraph being delayed or the data being negative for the said trials. However, the biggest risk for Radius Health is of course drug launch. More than 50% of drug launches miss expectations, according to McKinsey & Co. Radius Health will have to work hard with physicians and patients to convince them that Tymlos is more effective. It won't be easy since Tymlos is entering a crowded, but growing space. Both Eli Lilly and Amgen have more resources than Radius Health when it comes to commercialization, but it doesn't mean Radius Health can't compete with them. It would be more difficult however.
As far as cash for the company goes, I would advise investors to read an excerpt from the company's annual report below:
Based upon our cash, cash equivalents and short-term marketable securities balance at December 31, 2016, we believe that, prior to the consideration of revenue from the potential future sales of any of our investigational products that may receive regulatory approval, we have sufficient capital to fund our development plans, U.S. commercial scale-up and other operational activities into 2018. We have based this estimate on assumptions that may prove to be wrong, and we could use up our available capital resources sooner than we currently expect.
The company has expressed sufficient cash into 2018, but investors should keep a close eye on the drug launch, as it is a common occurrence for companies to underestimate the costs needed in a drug launch. As 2018 approaches, the idea of raising cash would become very real so just something for investors to be aware of.
In conclusion, it's tough to really say that one of these three drugs is the clear favorite over the others. Tymlos has a better side effect profile, Tymlos also has what it appears to be a slight advantage when looking at the clinical data (although these drugs weren't tested against each other), but Prolia contains no warning and has much better drug administration. In my opinion, I don't think this is a case of whether Tymlos can steal market share from someone else. It's simply a case of another quality drug now being available that will help grow the osteoporosis market even more where all three drugs will prosper.