Herbalife: N. America member, revenue declines projected
Google Trends implies a decline of 12% or more in North American VP's in Q2.
Activity on the Herbalife membership sites suggests a YoY decline in new members in excess of 30%.
Revenue from Membership revenue dropped 25% YoY in Q1 indicating significant numbers of free and discounted memberships.
Traffic to key Herbalife web sites are on the decline.
The new 2016 Statement of Average Gross Compensation for the US raises some interesting questions.
All Eyes on the US
With Q2 of 2017 representing the first quarter during which the FTC sanctions are truly in effect in North America (for 2 of 3 months) there is a great deal of interest surrounding their effect on sales and membership in the region. North American sales in 2017 Q1 were down 6.5% compared to Q1 of 2016. Will Q2 see a reversal, continuation or worsening of this trend? We could wait for the big reveal on August 1st but where is the fun in that.
In this article, I seek to quantify key Q2 indicators for North America utilizing freely available information on the internet.
Herbalife Tells
In the days of the internet it is hard to do anything without leaving some trace of our activity. Being a former IT professional I'm aware of the many breadcrumbs left behind by internet users. These breadcrumbs can provide significant insight when they are collated into large enough samples.
In this article, I use data from four sources:
I have used these sources in the past so I won't repeat my explanation of how they work and their significance here, but I have included a brief description and example of each in Appendix 1 at the end of this article.
Now let's look at what the various indicators have to say.
I. Google Trends
I have used data from Google Trends extensively in a prior article which you can read here. I believe public interest in Herbalife, expressed as internet searches, is indicative of the level of future interest in consuming Herbalife products or pursuing the business opportunity.
The graph below shows North American Volume Points (VP's) from 2010 Q1 until 2017 Q1. Overlaid on the same graph is the public interest in the term "Herbalife" from Google trends for the same period.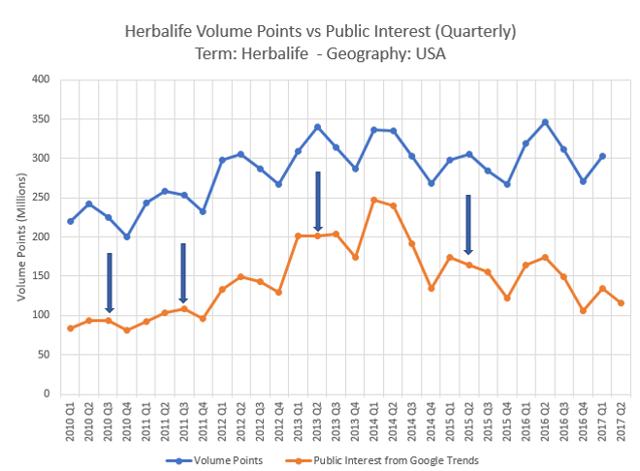 As you can see the two lines follow a similar pattern which Excel calculates as having a correlation coefficient of 0.88, considered a "strong correlation". Of the 28 points in the VP line the direction (trend up or trend down) is matched by the Google Trends line 24 times out of 28. Blue arrows indicate the 4 times where they are not consistent.
This means that after a quarter is closed, but before the company announces their results, Google Trends has had 86% accuracy in predicting whether North American VP's will go up or down relative to the prior quarter.
If Google Trends proves accurate for Q2 then North American VP's will be less than the 302.6 million VP's for Q1/2017. This would be a decline in VP's for North America of 12.8% relative to the 347 million VP's shipped in Q2 of 2016.
In my article, Herbalife: The Google Trends Data That Spell Trouble Ahead, I generated a graph of public interest in "Herbalife reviews" as an indicator of potential demand for Herbalife products in the US.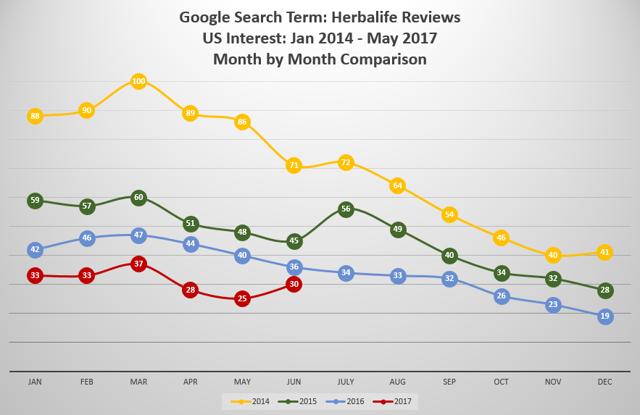 As the chart clearly shows the level of interest in "Herbalife Reviews" has been steadily declining YoY since 2014 and Q2 of 2017 continues that trend and suggests declining sales in the region.
II. Membership Trends
I wrote extensively about the recent Herbalife Membership drive to boost their Preferred Member numbers, you can find that article here. In this section, I utilize the same basic methods to estimate the Q2 trend for Herbalife's North American membership numbers.
As I explained in my prior article we can get an estimate of interest in Herbalife membership by using SimilarWeb to provide information on web traffic to sites of interest. The four sites listed in the table below are the 4 portals that all North American residents must use in order to become either a Preferred Member or a Distributor.
| | |
| --- | --- |
| Member Type | Membership Domain |
| US English | us.onlinecontract.myherbalife.com |
| US Spanish | uses.onlinecontract.myherbalife.com |
| Puerto Rico | pr.onlinecontract.myherbalife.com |
| Canada | ca.onlinecontract.myherbalife.com |
The following chart shows the SimilarWeb estimate of visitors to the membership sign up domains for English and Spanish speakers in the US (Canada and Puerto Rico have insufficient data are not included in this discussion unless specifically mentioned).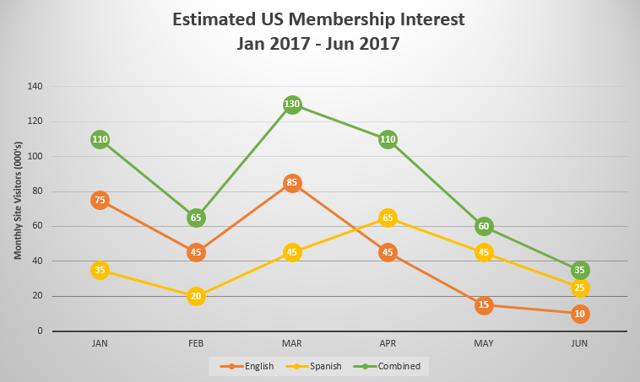 These numbers represent the number of people that made it to the sign-up page, not the number that completed the sign-up process. It is interesting to note that although only 17% of the US population use Spanish as their first language, 46% of those expressing interest in Herbalife membership chose to go to the Spanish language membership site.
Herbalife states that it had 81,702 new members in Q1 of 2017. During Q1 SimilarWeb estimated a combined 305,000 visitors to the English and Spanish US membership sites. This yields a conversion rate of 27% which is likely to be higher than normal as Q1 included multiple Free Membership promotions. However, we will use 27% as generous conversion rate.
In summary we can estimate that for every 100 people that make it to the Herbalife membership sign up page, approximately 27 of them will complete the sign up process to become either a Preferred Member or Distributor.
If we take the 27% conversion estimate from Q1 and apply it to the number of visitors in Q2 (205,000) we can estimate new members (Preferred and Distributors) for Q2 at around 55,000 plus an allowance for Canada and Puerto Rico, bringing the total to around 60,000 or so for Q2.
By comparison Herbalife had 81,702 new members in Q1 of 2017 and 92,012 in Q2 of 2016. If these new member estimates for North America hold true it would mark a sequential decline of 26% and YoY decline of 35%, a significant decline by any measure.
III. Declining Membership Fees\Distributor Investment
Each quarter Herbalife reports revenue for 5 different product categories as shown below in this excerpt from the 2017 Q1 report.


At the bottom of the list is the category "Literature, Promotional and Other". The Annual Report describes this category as being used for membership kits, sales tools and business add-ons like BizWorks.
Note (1) in the footer is quite interesting, " Product buy backs and returns in all product categories are included in literature, promotional and other category." but this is something for another day.
While this category does not get much attention it probably should get more than it does. Over the last 6 years the revenue for this category has been steadily declining as shown below.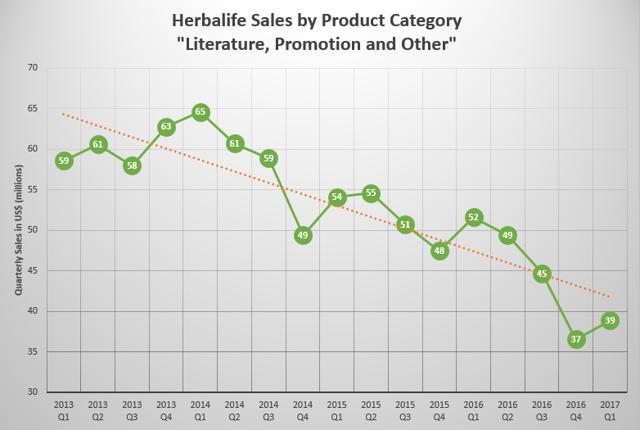 Revenue in this category for 2016 Q4 dropped 23% YoY. This trend continued into Q1 of 2017 with a 24.6% YoY decline from $51.6 million to $38.9 million. What could explain such a rapid drop in revenue?
For the full year of 2016 Herbalife had 1,931,291 new members who would typically purchase one of two new member packs for either $94.10 or $60.90 plus S&H and taxes. Using a midpoint of $77.5 (exc S&H and taxes) would place 2016 revenue derived from new member packs at $149.7 million or 82% of all "Literature, Promotion and Other" revenue for 2016. This number does not include annual renewal fees for the 2 million retained members. Therefore, YoY declines of 23% – 25% can only be accounted for by declines in revenue from new and renewing members.
As I demonstrated in my article "How Herbalife Fooled Wall Street with its Preferred Member Numbers" Herbalife pulled out all the stops in Q4 of 2016 and Q1 of 2017 with promotions offering free memberships to past customers, both in the category of Preferred Members and Distributors. This is a probable explanation for the steep decline in revenue for the "Literature, Promotions and Other" category for Q4 and Q1.
Even if the decline could not be attributed to a reduction in membership fees the decreasing revenue would have to be accounted for elsewhere. Besides membership fees "Literature, Promotions and Other" includes two main categories:
Fees from Herbalife business services like BizWorks and hosting distributor websites on GoHerbalife.com.
Business supplies like pins, brochures, stationery, forms, cups, attire etc.
Purchases made in either of these product categories reflect a distributor's willingness to invest in growing their Herbalife business. A steep decrease in spending in these categories is surely a reflection of the distributors commitment to their businesses.
IV. Decrease in Ranking of Key Herbalife Web Sites
Herbalife operates Herbalife.com, the main information portal for Herbalife product and company information. In addition they operate two e-commerce sites through which Members and Distributors can place product orders, these are myherbalife.com and goherbalife.com.
The chart below shows a steady decrease in monthly visitors to Herbalife.com over the past year.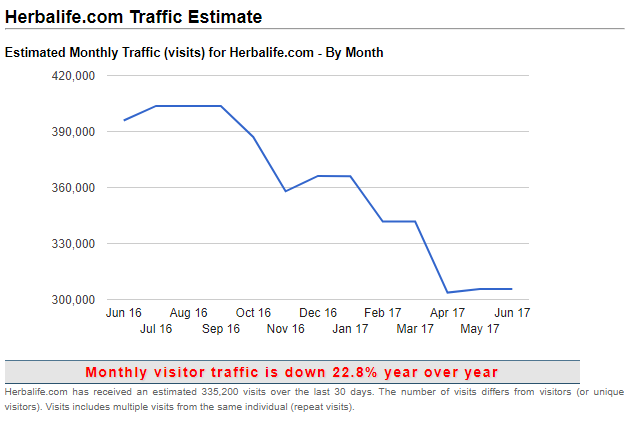 Myherbalife.com is the website where members around the world (except China) can logon and make product purchases. A graph of monthly visitors is shown below.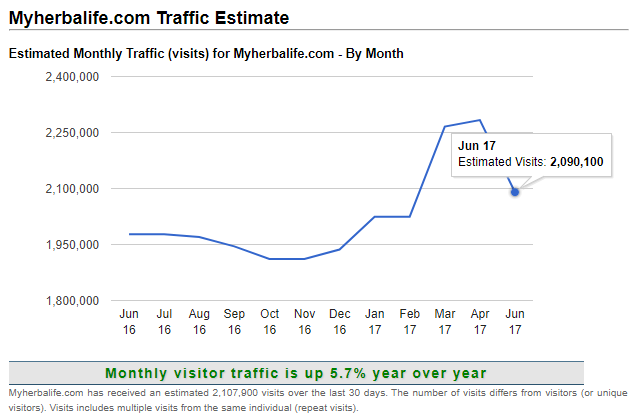 This general trend appears to be confirmed by the Alexa Ranking for the same period.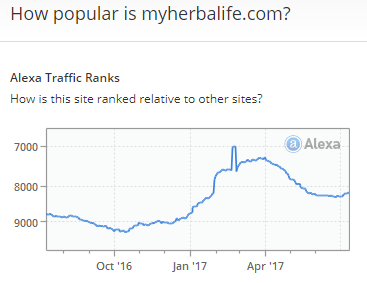 So what is wrong with that? The bulls would argue that this bump in monthly visitors to MyHerbalife.com must surely point to increased orders during this period. I don't think that is probably the case and here is why.
As part of the FTC sanctions Herbalife must generate receipts for their retail transactions. These receipts can then be uploaded to MyHerbalife.com via the website or through their Point of Sale application (Herbalife POS) on their smartphone or tablet. According to the June 4th press release Herbalife collected 3 million receipted transactions in the US for May alone. What many people don't realise is that Herbalife has also rolled out the Herbalife POS application in Mexico, India and Brazil as shown in the screenshot below.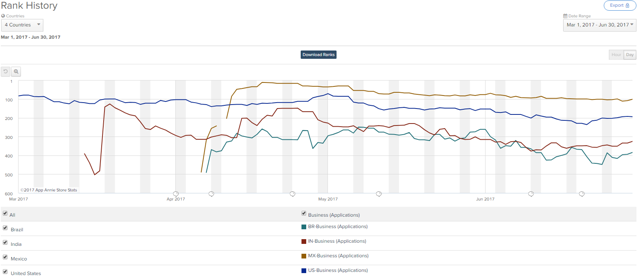 Given the broad use of the Herbalife POS application it seems likely that increase in traffic to MyHerbalife.com is not from increased orders, but from usage driven by the receipt documentation process.
It is also worth noting that the Alexa ranking of myherbalife.com starts to climb in late 2016 until the end of March 2017 before entering a decline. This period correlates strongly to the numerous Herbalife Membership promotions that occurred during their Preferred Member push that I discussed here.
Goherbalife.com is a for fee service provided by Herbalife which allows distributors to have a customized online store which the distributor can use to promote their business. A distributors goherbalife.com site allows their customers to sign in and place orders online, rather than calling or e-Mailing their distributor.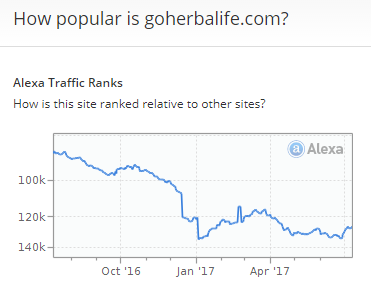 As the above chart demonstrates goherbalife.com has become less popular over the past 12 months and may indicate a decrease in orders placed through this portal or a decrease in the number of distributors with online stores with which to draw customers.
There are a multitude or reasons why traffic may increase or decrease to any given website over time, many of them benign. Traffic Stats and Alexa ranking are not precision tools and can tell us very little in isolation. Instead they are better used to determine if they support or contradicts information gleaned from other sources.
V. Herbalife is Fighting Back
Herbalife released a new Statement of Average Gross Compensation on 4/19/17 to replace the prior one dated 7/27/16. Both documents use the statement "Last year" when referring to member numbers and earnings. I interpret this to mean the fiscal years 2015 and 2016 respectively. The salient points of the two SAGC's are compared side by side below.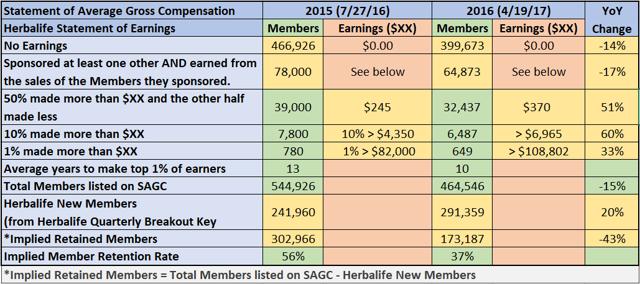 The most striking difference in these two statements is the dramatic increase in compensation for the three primary income groups with increases of 51%, 60% and 33% between 2015 and 2016. This boost to income would certainly resonate with those potentially interested in the business opportunity.
While the company's calculations of these numbers are not open to public scrutiny they do raise some reasonable questions.
With Herbalife's own statistics showing a 20% increase in Herbalife New Members between 2015 and 2016 why has the Total Members listed on SAGC decreased from 544,926 in 2015 to 464,546 in 2016?
If we subtract Herbalife's New Member numbers from the Total Members listed on SAGC we can get an implied number of retained members from the prior year which are shown in the table above. Does it make sense that member retention dropped 43% from 2015 to 2016?
What happened to cause the number of years to get into the top 1% of earners to drop from 13 years to 10 years in the time between these two statements? The top 1% typically encompasses the President's Team, Chairman's Club and Founders Circle.
While Herbalife did increase North American sales by 0.5% between 2015 and 2016 it would seem unlikely that this would account for the increases in the newest SAGC. Unfortunately, Herbalife changed the form of the SAGC in 2015 making informed comparisons to prior years impossible.
We do not know how Herbalife calculates the SAGC numbers, nor do we know that they calculate them in a consistent way, i.e. by calendar year or rolling year. We also do not know how the introduction of the Preferred member program and subsequent re-assignment of downlines was accounted for in these numbers.
What we do know is that Herbalife has increased the financial incentive for new entrants in the US at a time when its reputation and membership has been on the decline.
Conclusion
I think everyone, even the most optimistic of longs, expect North American sales to decline in Q2 on a YoY basis. What the market will deem to be an excessive decline in North America is up for debate but my estimates are as follows:
Less than 6% decline: A good result that could be attributed to the temporary disruption caused by the FTC requirements. Barring any other bad news the stock may rally on the basis that the short case looks increasingly weak.
A 6% – 12% decline: Definitely worrisome to investors and would cause a slight pullback. Investors would be concerned that the worst is still ahead with 3 full months of FTC requirements in Q3. Simultaneous declines in other regions could initiate an extended decline.
A 12% or worse decline: A significant pullback in share price. If the weakness in China continues to worsen the stock is likely to move into correction territory (a 20% decline or more).
In isolation, taking any one or two of the 5 data points discussed above is not sufficient to make an investment decision. However, taking all 5 in aggregate paints a broad picture of the North American region in decline, both in product sales and membership. This is sufficient confirmation for me to retain my existing Jan 2018 Puts and potentially add to my position.
Appendix 1
Google Trends – Provides the level of public interest in a word or phrase over time. The simple example below shows illustrates the decline of Herbalife in Brazil while Tupperware is growing, trends which are in sync with the respective financial performance of the two companies within that region.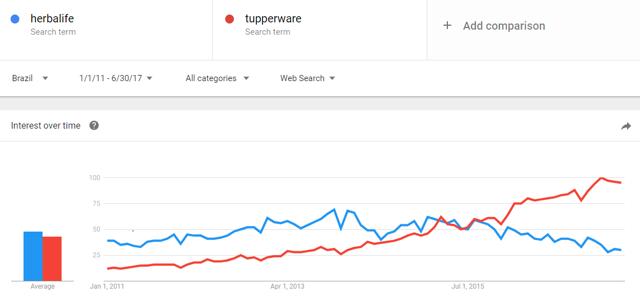 SimilarWeb – Provides estimated usage statistics for websites based upon a range of "breadcrumbs" collated from a variety of sources. Depending on the nature of the website this may provide insight into the past, present and future for Herbalife and its products. With the free version of the product we only have 6 months of history but it gives a good idea of recent trends. The following graphic is a sample of web traffic to Tesla.com for the last 6 months.

Alexa (an Amazon company) –This provides the ranking of a website over time based on traffic and the number of unique users that visit it over a period of time. Google.com has a ranking of 1, meaning it is the most popular website on the internet at that point in time. An Alexa rank that is getting lower (smaller number = more popular) over time is positive for the business. A declining rank is obviously a concern for the business.
The chart below shows the declining popularity of Sears.com as this struggling retailer tries to find its feet.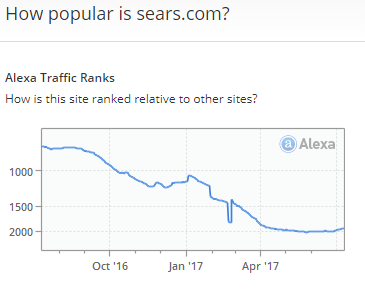 Herbalife – A variety of Herbalife sources are used. These include SEC filings, press releases, quarterly results transcriptions and other supplemental company data that are available on the Herbalife Investor Relations site here.
Appendix 2 – Another Note from the Author
This is my sixth article on Herbalife and I know from experience that I will (as always) be accused of being a paid shill, working on behalf of Ackman to bring down a great company etc. Let me once again state categorically that the idea for this article is mine alone, as is all the research and the writing. I have no affiliation with Ackman or any of his representatives, either in the past or the present. As always, the only financial compensation for this article is the paltry amount that I receive from SeekingAlpha.