Man behind site that tanked Chipotle wants to profit from food poisoning
iwaspoisoned.com crowd-sources examples of foodborne illness

Site provided an early signal for the latest Chipotle incident
It was a weird — and slightly gross — source of a Wall Street "aha!" moment: a seriously unsanitary BLT wrap.
Patrick Quade, then at Morgan Stanley, says he bought the dubious sandwich at a deli in Lower Manhattan. The results were, well, Technicolor.
But Quade's bout of food poisoning gave him an idea for our age: Why not crowd-source customer complaints at U.S. restaurant chains, not just for health, but for stock-market profits?
Enter iwaspoisoned.com, which Morgan Stanley's former global head of interest-rates trading-market structure founded in 2009. This week his site compiled complaints from a single Chipotle Mexican Grill Inc. restaurant that promptly sent the burrito chain's stock price into a tailspin.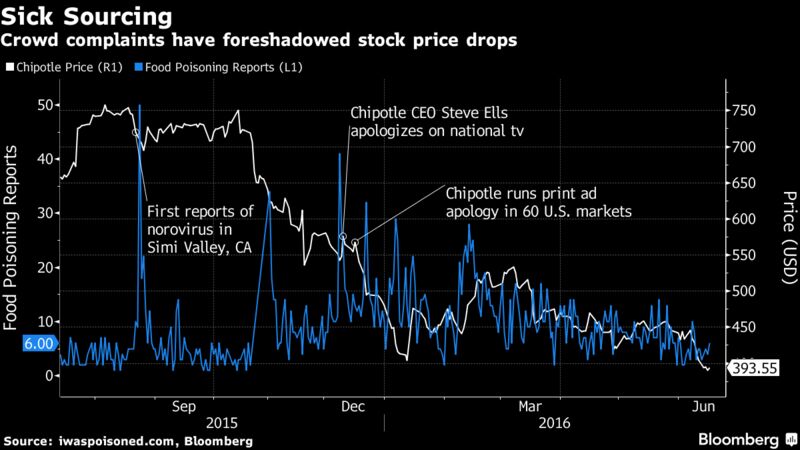 Asked about the site, Chipotle spokesman Chris Arnold said, "overall, this kind of data may be useful, but the integrity of the data matters and, absent clinical validations, it's hard to know how revealing the data may be."
Quade is trying to sell a souped-up version of his database, dinesafe.org, to hedge funds and brands that want to sniff out trouble in the food industry. The price? $5,000 a month. So far he's landed about two dozen clients, all industry businesses.
"Funds are interested in bespoke data sources." he says, adding that he's urged some interested hedge funds "to get on with it, as it seemed a trading opportunity was inevitable."
Whether he can make a go of it is anyone's guess. But Chipotle, at least, is on double-probation with investors after its food-borne problems two years ago. This year, iwaspoisoned.com has received no fewer than 15,000 complaints involving every major restaurant brand in the U.S. and Canada. So far, Chipotle, Quade says, is the "highest profile case" of a stock getting drubbed after reports of illness.