HCA misses, cuts annual outlook
Biggest for-profit operator misses views, cuts annual forecast

Tenet, Community Health shares falter amid pricing concerns
Hospital operators fell on Tuesday after HCA Healthcare Inc., the biggest for-profit chain, missed quarterly earnings estimates and cut its annual profit forecast.
HCA shares fell 2.5 percent to $83.93 at 10:05 a.m. in New York. Tenet Healthcare Corp.tumbled 7.3 percent to $19.57 and Community Health Services Inc. lost 7.4 percent to $8.96.
The industry is facing increasing uncertainty as Republicans work to repeal and replace Obamacare, throwing health coverage for millions of Americans into doubt. Senator John McCain of Arizona, recently diagnosed with brain cancer, said he'll return to the Senate today to vote on whether to debate a GOP health proposal, potentially raising chances of its passage.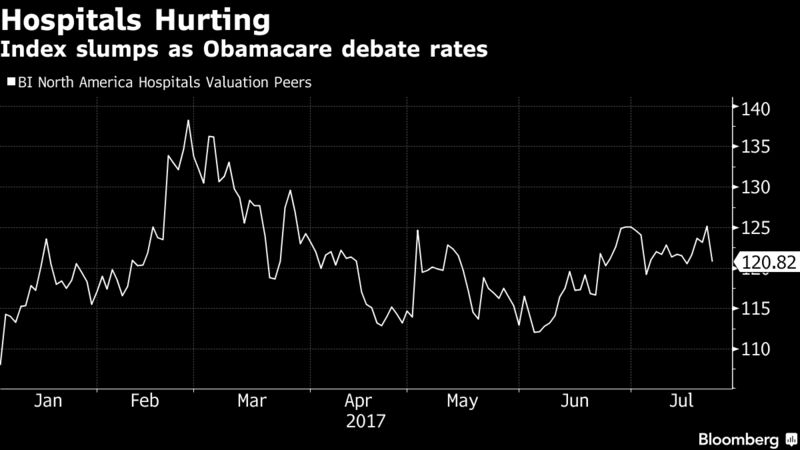 Hospitals are facing increasing pricing and volume pressure as patient procedures move from more costly inpatient settings to emergency and surgery centers, where treatments are provided more cheaply.
"It's now clear that HCA needs external growth to augment slowing organic growth," said Sheryl Skolnick, an analyst with Mizuho Securities who rates the stock buy, in a note to clients, "and that doesn't make us comfortable given pressures on same store utilization rates."
Adjusted earnings before interest, taxes, depreciation and amortization were $2.09 billion in the second quarter, HCA said in a statement. That missed analysts' average projection of $2.11 billion. For the year, adjusted Ebitda will be $8.35 billion to $8.5 billion in 2017, a cut from the earlier guidance of $8.4 billion to $8.7 billion.
HCA left its annual revenue forecast unchanged at $43 billion to $44 billion.